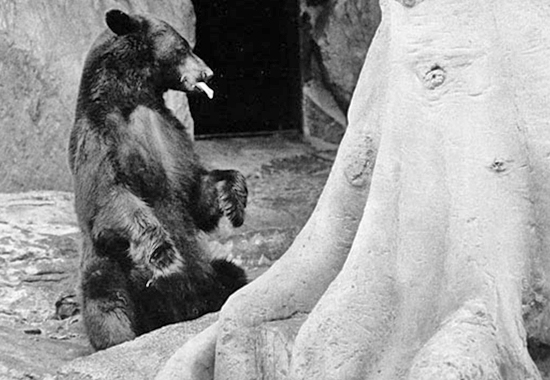 Smokey in Washington DC


Smokey Bear
Smokey was a North American Black Bear.

He was found in a wildfire and named Hotfoot Teddy. But then it was decided to make him campaign mascot to advertise forest fire prevention. Thus, Ted became Smokey.

Smokey Bear had already been the US Forest Service's mascot, but he didn't exist. Now he did. Win-win.


Dr. Smith of Santa Fe Examines Smokey's Burns
National Historical Publications and Records Commission

Image at the Top of the Page

Smokey Bear having a peanut butter moment, only with honey and berries.

Jessie Cohen, Photographic print, Smithsonian Institution

What's Hotfoot Teddy's Story?
Hotfoot Teddy had lived his short life in the mountains just north of Capitan, New Mexico, minding mostly his own business.
Here is Capitan on a map:

Map Location of Capitan, New Mexico
Google Map
Disaster struck when a forest fire blazed through Ted's neck of the woods. On May 9, 1950, firefighters found him clinging to a burned tree. The tiny fur was scared out of his little skull and badly burned himself.
He became Hotfoot Teddy and ended up in the lap of Ray Bell, the game warden.

Smokey the Cub
Lincoln National Forest/USDA
Who Invented Smokey the Bear in the First Place?
The Forest Service and War Advertising Council came up with the idea of using a bear to promote forest fire prevention. They settled on the name Smokey Bear.
The illustrator Albert Staehle drew him first.
The year? 1944. Here he is: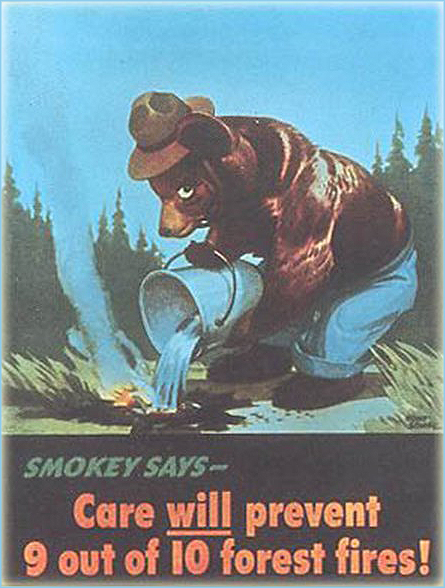 Smokey Busy Preventing in 1944
National Historical Publications and Records Commission

Artist Rudolf Wendelin, who lived 1910 to 2000, developed the Smokey character further.
Who Asked You to Prevent Forest Fires Before Smokey the Bear Came onto the Scene?
None other than famous Bambi, who, having escaped a wildfire himself, was naturally concerned about his environment and a logical choice for official spokesfawn.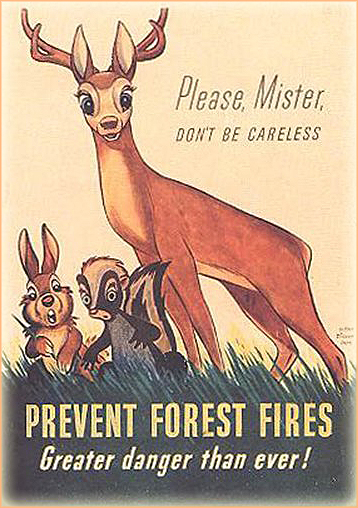 Bambi and His Crew Delivering the Message in 1944
National Historical Publications and Records Commission
Smokey's Biography in a Nutshell
Smokey was born in 1950, in New Mexico.


He entered the zoo in Washington DC on June 27, 1950, where he died on November 9, 1976.


Smokey's remains were sent back to his original stomping grounds and buried at the Smokey Bear Historical Park in Capitan, NM.
More History