Napoleonic Wars Timeline - Year 1812
Go here for the

Napoleonic Wars in a nutshell.

June 18, 1812
The

War of 1812 begins. It will be fought between the U.S. and Britain, and it will end on February 17, 1815.
June 24, 1812


Napoleon launches his

Invasion of Russia.
September 7, 1812
Battle of Borodino. This battle is part of

Napoleon's

Russian Campaign.


Map of the Battle of Borodino: 0630 Hours - September 7, 1812

Battle of Borodino: 0930 Hours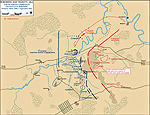 Battle of Borodino: 1600 Hours

September 14, 1812
Napoleon enters Moscow.
October 19, 1812
Napoleon and his troops leave Moscow.
December 24, 1812
Joel Barlow, U.S. Minister to France, dies in Poland of pneumonia. He was en route to Wilna, Lithuania, to meet with Napoleon for negotiations. Napoleon himself had invited him there to his winter headquarters. This is in relation to the

War of 1812 and only mentioned here to track Napoleon's moves.
More History