Ptolemy I Soter 367-282 BC
Soter is Greek and means savior.
In 301 BC, Ptolemy fought at the

Battle of Ipsus. And this is the map: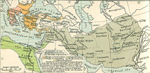 THE MACEDONIAN EMPIRE IN 301 BC
Click to enlarge
Ptolemy's Offspring
Around 299 BC, Ptolemy's daughter Arsinoe II married

Lysimachus, the king of Thrace. She was his third wife. Lysimachus died in February 281 BC in battle.
In 277 BC, Arsinoe II moved on and married her brother Ptolemy II Philadelphus, the king of Egypt. Gotta love politics.
Ptolemy's elder son was Ptolemy Ceraunus. He was the one who killed

Seleucus in 281 BC.
Ptolemy became founder of the Ptolemaic Dynasty when he ruled as King of Egypt from 323 - 285 BC.
See more under

Governments of Egypt.
More History