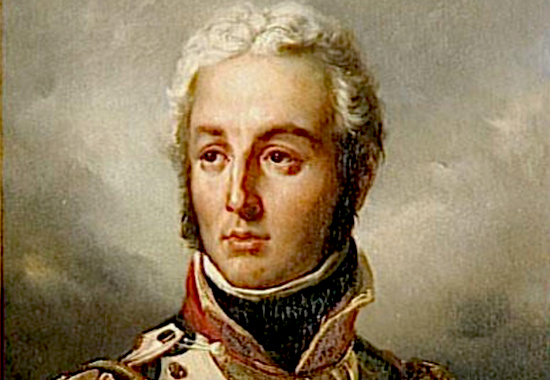 Victor Moreau 1763-1813

For and Against Napoleon Bonaparte
Jean-Victor-Marie Moreau was a bright and successful French general.
Image Above

Jean-Victor Moreau, Lieutenant Colonel of the 1st Battalion D'Ile-et-Vilaine, in 1792

Oil on canvas by François Bouchot, 1835

Versailles

Moreau was born at Morlaix, also known as Ville de Bretagne or oyster city, in France. Morlaix is located roughly 130 ferry miles (200 km) south of Plymouth, UK.
He fought under

Dumouriez in the Army of the North during the

French Revolutionary Wars.
In 1793, Dumouriez switched sides and decided to henceforth help out the Austrians.
In March 1794, General Jean-Charles Pichegru was made commander of the Army of the North.
Among other activities, Moreau was busy at the Siege of Ypres, which immediately preceded the

Battle of Fleurus, and its consequent capture. Here is the picture:

Capture of Ypres — June 17, 1794
Oil on canvas by Henri Felix Emmanuel Philippoteaux
Versailles
Moreau became Pichegru's successor in March 1795, while Pichegru moved on to lead the armies of the Rhine and Moselle.
Pichegru quit his job in March 1796, and Moreau was made commander of the armies of the Rhine and Moselle on March 14, 1796. He entered Germany by crossing the Rhine River on June 24, 1796. Here is the picture:

Crossing the Rhine River at Kehl — June 24, 1796
Oil on canvas by Nicolas Toussaint Charlet
Versailles
In April 1799, Moreau was appointed commander of the Army of Italy.
On November 9, 1799, Napoleon catapulted himself to power via coup d'état. Soon after, Moreau was made commander of the Army of the Rhine and the troops in the

Helvetic Republic.
Moreau's next big success was the decisive victory over Austria, led by the

Archduke John, at the Battle of Hohenlinden on December 3, 1800. Here is the picture:

Battle of Hohenlinden — December 3, 1800
Oil on canvas by Frédéric Henri Schopin
Versailles
And here is the map that illustrates Moreau's campaigns:

1788-1815 Seats of War
Click map to enlarge.
Moreau then joined forces with Pichegru, the common goal being the overthrow of Bonaparte. He was arrested on February 5, 1804, and later emigrated to the United States.
Back in Europe in 1813, Moreau lived to fight another day.
The Battle of Dresden, which was part of the

Napoleonic Wars and fought on August 26 and 27, 1813, would be his final curtain. He was wounded in action and died shortly thereafter.

General Jean-Victor Moreau
Oil on canvas by François Gérard
Versailles
And here is The Life and Campaigns of Victor Moreau which you can read online and free thanks to openlibrary.org:

The Life and Campaigns of Victor Moreau
Click to read

More History