VICTORIANO HUERTA
1854 - 1916

Fearless Mexican Dictator and President
Victoriano Huerta deposed

Francisco I. Madero and made himself president of Mexico, which he enjoyed being from February 18, 1913, until July 15, 1914.
Welcome to the

Mexican Revolution.
Huerta had the reputation of not being afraid of anything. He was also a heavy drinker, but a very functional one. Huerta was always up bright and early in the morning.

After his breakfast composed of a raw egg, a glass of claret, and a glass of brandy, Huerta was ready to roll.

And so what, I hear you say, Ulysses S. Grant did it similarly.

President Victoriano Huerta
Hemeroteca Nacional
However, Huerta ended up being exiled.
While sulking in Spain in early 1915, Huerta was approached by the Germans who offered him a good bundle of money if he would go back to Mexico and organize a coup.
Huerta thought, might as well, and went on his journey back to Mexico. While traveling through the US, however, he was arrested by the US government who was able to add two and two.
Victoriano Huerta died while under arrest at Fort Bliss, El Paso, Texas.

Check out the

Mexican Revolution Timeline.



Left to Right: Victoriano Huerta, Emilio Madero, Pancho Villa in 1912
Instituto Nacional de Antropologia e Historia

Victoriano Huerta's Career
Huerta went to Chapultepec Military College.
Under President

Porfirio Diaz Huerta served as a general. Under President Francisco Madero, Huerta made it to commander-in-chief of the federal forces.
A revolution broke out in February 1913 and Huerta decided to join the rebels and make himself president. U.S. ambassador

Henry Lane Wilson was a big help.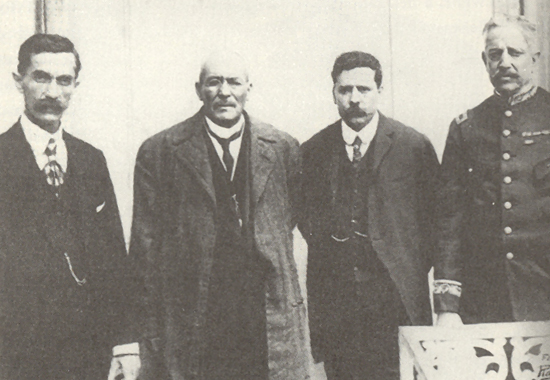 Left to right: Generals Manuel Mondragón, Victoriano Huerta,
Félix Díaz, Aureliano Blanquet
Archivo Cassola
Victoriano Huerta's Short Biography

December 23, 1854

Birth in Coatlán, Mexico

February 18, 1913

President of Mexico

July 15, 1914

Resigns and flees to Spain

January 13, 1916

Death in El Paso, Texas, USA
See also

Mexican Governments.

Victoriano Huerta photo session
CIA.gov
More History