William Longchamp ? - 1197

William ruled England 1190 until 1191, while

King Richard I the Lionheart was away fighting the

Third Crusade.
All his life, William was loyal to Richard, which we can't say of Richard's brother

John.



William Longchamp's Roots
William had a Norman background which made him view the French just a bit superior to the English. Naturally, the English resented this general idea.
William Longchamp's Career
William was Richard's chancellor and also the Bishop of Ely.
And on a map Ely, Cambridgeshire, England, is located right here: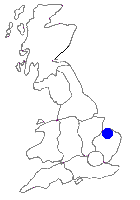 Together with the bishop of Durham,

Hugh de Puiset, William was made joint justiciar. That was in March 1190.
However, William did not want to share his office cubicle and after a few months he managed to get rid of Hugh. In June 1190 William was appointed papal legate by

Pope Clement III.
When the king's brother, John, tried to take advantage of King Richard's absence in order to become king himself, William Longchamp had to escape to France.
In 1193, William Longchamp visited a prison in Germany to free his boss. His king, Richard, had been arrested by

Henry VI, the Emperor of the Holy Roman Empire.
William arranged matters, and a hefty ransom paid by the English to Henry VI bailed Richard out.
King Richard returned to his country and ruled some more. He kept William as his chancellor.
William died in Poitiers, France, which probably made him happy since he had always loved that country.
More History