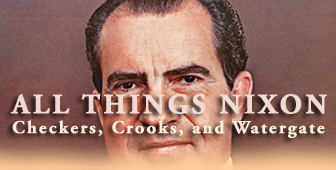 Explorers, Scientists & Inventors

Musicians, Painters & Artists

Poets, Writers & Philosophers

Native Americans & The Wild West

First Ladies

Popes

Troublemakers

Historians

Archaeologists

Royal Families

Tribes & Peoples
Assassinations in History
Who got slain, almost slain, when, how, why, and by whom?

Go to the Assassination Archive

Online History Dictionary A - Z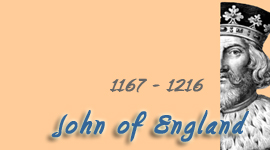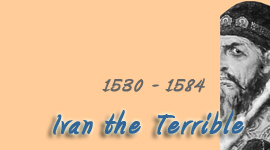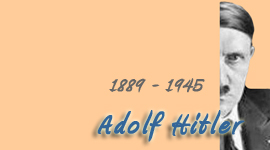 Voyages in History
When did what vessel arrive with whom onboard and where did it sink if it didn't?

Go to the Passage-Chart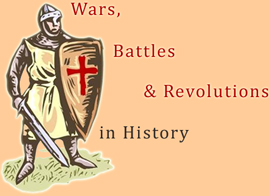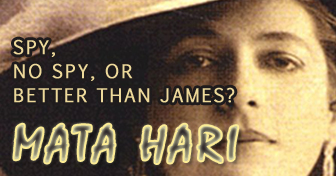 The Divine Almanac
Who all roamed the heavens in olden times? The Who's Who of ancient gods.



Check out the Divine Almanac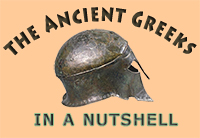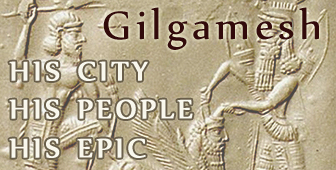 The History of Herodotus: Page 07
Volume One - Book I
123. Then as Cyrus grew to be a man, being of all those of his age the most courageous and the best beloved, Harpagos sought to become his friend and sent him gifts, because he desired to take vengeance on Astyages. For he saw not how from himself, who was in a private station, punishment should come upon Astyages; but when he saw Cyrus growing up, he endeavoured to make him an ally, finding a likeness between the fortunes of Cyrus and his own. And even before that time he had effected something: for Astyages being harsh towards the Medes, Harpagos communicated severally with the chief men of the Medes, and persuaded them that they must make Cyrus their leader and cause Astyages to cease from being king. When he had effected this and when all was ready, then Harpagos wishing to make known his design to Cyrus, who lived among the Persians, could do it no other way, seeing that the roads were watched, but devised a scheme as follows:--he made ready a hare, and having cut open its belly but without pulling off any of the fur, he put into it, just as it was, a piece of paper, having written upon it that which he thought good; and then he sewed up again the belly of the hare, and giving nets as if he were a hunter to that one of his servants whom he trusted most, he sent him away to the land of the Persians, enjoining him by word of mouth to give the hare to Cyrus, and to tell him at the same time to open it with his own hands and let no one else be present when he did so.

124. This then was accomplished, and Cyrus having received from him the hare, cut it open; and having found within it the paper he took and read it over. And the writing said this: "Son of Cambyses, over thee the gods keep guard, for otherwise thou wouldst never have come to so much good fortune.
Do thou therefore[133] take vengeance on Astyages who is thy murderer, for so far as his will is concerned thou art dead, but by the care of the gods and of me thou art still alive; and this I think thou hast long ago learnt from first to last, both how it happened about thyself, and also what things I have suffered from Astyages, because I did not slay thee but gave thee to the herdsman. If therefore thou wilt be guided by me, thou shalt be ruler of all that land over which now Astyages is ruler. Persuade the Persians to revolt, and march any army against the Medes: and whether I shall be appointed leader of the army against thee, or any other of the Medes who are in repute, thou hast what thou desirest; for these will be the first to attempt to destroy Astyages, revolting from him and coming over to thy party. Consider then that here at least all is ready, and therefore do this and do it with speed."
125. Cyrus having heard this began to consider in what manner he might most skilfully persuade the Persians to revolt, and on consideration he found that this was the most convenient way, and so in fact he did:--He wrote first on a paper that which he desired to write, and he made an assembly of the Persians. Then he unfolded the paper and reading from it said that Astyages appointed him commander of the Persians; "and now, O Persians," he continued, "I give you command to come to me each one with a reaping-hook." Cyrus then proclaimed this command. (Now there are of the Persians many tribes, and some of them Cyrus gathered together and persuaded to revolt from the Medes, namely those, upon which all the other Persians depend, the Pasargadai, the Maraphians and the Maspians, and of these the Pasargadai are the most noble, of whom also the Achaimenidai are a clan, whence are sprung the Perseïd[134] kings. But other Persian tribes there are, as follows:-- the Panthaliaians, the Derusiaians and the Germanians, these are all tillers of the soil; and the rest are nomad tribes, namely the Daoi, Mardians, Dropicans and Sagartians.)
126. Now there was a certain region of the Persian land which was overgrown with thorns, extending some eighteen or twenty furlongs in each direction; and when all had come with that which they had been before commanded to bring, Cyrus bade them clear this region for cultivation within one day: and when the Persians had achieved the task proposed, then he bade them come to him on the next day bathed and clean. Meanwhile Cyrus, having gathered together in one place all the flocks of goats and sheep and the herds of cattle belonging to his father, slaughtered them and prepared with them to entertain the host of the Persians, and moreover with wine and other provisions of the most agreeable kind. So when the Persians came on the next day, he made them recline in a meadow and feasted them. And when they had finished dinner, Cyrus asked them whether that which they had on the former day or that which they had now seemed to them preferable. They said that the difference between them was great, for the former day had for them nothing but evil, and the present day nothing but good. Taking up this saying Cyrus proceeded to lay bare his whole design, saying: "Men of the Persians, thus it is with you. If ye will do as I say, ye have these and ten thousand other good things, with no servile labour; but if ye will not do as I say, ye have labours like that of yesterday innumerable. Now therefore do as I say and make yourselves free: for I seem to myself to have been born by providential fortune to take these matters in hand; and I think that ye are not worse men than the Medes, either in other matters or in those which have to do with war. Consider then that this is so, and make revolt from Astyages forthwith."
127. So the Persians having obtained a leader willingly attempted to set themselves free, since they had already for a long time been indignant to be ruled by the Medes: but when Astyages heard that Cyrus was acting thus, he sent a messenger and summoned him; and Cyrus bade the messenger report to Astyages that he would be with him sooner than he would himself desire. So Astyages hearing this armed all the Medes, and blinded by divine providence he appointed Harpagos to be the leader of the army, forgetting what he had done to him. Then when the Medes had marched out and began to fight with the Persians, some of them continued the battle, namely those who had not been made partakers in the design, while others went over to the Persians; but the greater number were wilfully slack and fled.
128. So when the Median army had been shamefully dispersed, so soon as Astyages heard of it he said, threatening Cyrus: "But not even so shall Cyrus at least escape punishment." Thus having spoken he first impaled the Magian interpreters of dreams who had persuaded him to let Cyrus go, and then he armed those of the Medes, youths and old men, who had been left behind in the city. These he led out and having engaged battle with the Persians he was worsted, and Astyages himself was taken alive, and he lost also those of the Medes whom he had led forth.
129. Then when Astyages was a prisoner, Harpagos came and stood near him and rejoiced over him and insulted him; and besides other things which he said to grieve him, he asked him especially how it pleased him to be a slave instead of a king, making reference to that dinner at which Astyages had feasted him with the flesh of his own son.[135] He looking at him asked him in return whether he claimed the work of Cyrus as his own deed: and Harpagos said that since he had written the letter, the deed was justly his. Then Astyages declared him to be at the same time the most unskilful and the most unjust of men; the most unskilful because, when it was in his power to become king (as it was, if that which had now been done was really brought about by him), he had conferred the chief power on another, and the most unjust, because on account of that dinner he had reduced the Medes to slavery. For if he must needs confer the kingdom on some other and not keep it himself, it was more just to give this good thing to one of the Medes rather than to one of the Persians; whereas now the Medes, who were guiltless of this, had become slaves instead of masters, and the Persians who formerly were slaves of the Medes had now become their masters.
130. Astyages then, having been king for five-and-thirty years, was thus caused to cease from being king; and the Medes stooped under the yoke of the Persians because of his cruelty, after they had ruled Asia above the river Halys for one hundred and twenty-eight years, except during that period for which the Scythians had rule.[136] Afterwards however it repented them that they had done this, and they revolved from Dareios, and having revolted they were subdued again, being conquered in a battle. At this time then, I say, in the reign of Astyages, the Persians with Cyrus rose up against the Medes and from that time forth were rulers of Asia: but as for Astyages, Cyrus did no harm to him besides, but kept him with himself until he died. Thus born and bred Cyrus became king; and after this he subdued Crœsus, who was the first to begin the quarrel, as I have before said; and having subdued him he then became ruler of all Asia.
*****
131. These are the customs, so far as I know, which the Persians practise:--Images and temples and altars they do not account it lawful to erect, nay they even charge with folly those who do these things; and this, as it seems to me, because they do not account the gods to be in the likeness of men, as do the Hellenes. But it is their wont to perform sacrifices to Zeus going up to the most lofty of the mountains, and the whole circle of the heavens they call Zeus: and they sacrifice to the Sun and the Moon and the Earth, to Fire and to Water and to the Winds: these are the only gods to whom they have sacrificed ever from the first; but they have learnt also to sacrifice to Aphrodite Urania, having learnt it both from the Assyrians and the Arabians; and the Assyrians call Aphrodite Mylitta, the Arabians Alitta,[136a] and the Persians Mitra.
132. Now this is the manner of sacrifice for the gods aforesaid which is established among the Persians:--they make no altars neither do they kindle fire; and when they mean to sacrifice they use no libation nor music of the pipe nor chaplets[137] nor meal for sprinkling;[138] but when a man wishes to sacrifice to any one of the gods, he leads the animal for sacrifice to an unpolluted place and calls upon the god, having his /tiara/[138a] wreathed round generally with a branch of myrtle. For himself alone separately the man who sacrifices may not request good things in his prayer, but he prays that it may be well with all the Persians and with the king; for he himself also is included of course in the whole body of Persians. And when he has cut up the victim into pieces and boiled the flesh, he spreads a layer of the freshest grass and especially clover, upon which he places forthwith all the pieces of flesh; and when he has placed them in order, a Magian man stands by them and chants over them a theogony (for of this nature they say that their incantation is), seeing that without a Magian it is not lawful for them to make sacrifices. Then after waiting a short time the sacrificer carries away the flesh and uses it for whatever purpose he pleases.
133. And of all days their wont is to honour most that on which they were born, each one: on this they think it right to set out a feast more liberal than on other days; and in this feast the wealthier of them set upon the table an ox or a horse or a camel or an ass, roasted whole in an oven, and the poor among them set out small animals in the same way. They have few solid dishes,[139] but many served up after as dessert, and these not in a single course; and for this reason the Persians say that the Hellenes leave off dinner hungry, because after dinner they have nothing worth mentioning served up as dessert, whereas if any good dessert were served up they would not stop eating so soon. To wine-drinking they are very much given, and it is not permitted for a man to vomit or to make water in presence of another. Thus do they provide against these things; and they are wont to deliberate when drinking hard about the most important of their affairs, and whatsoever conclusion has pleased them in their deliberation, this on the next day, when they are sober, the master of the house in which they happen to be when they deliberate lays before them for discussion: and if it pleases them when they are sober also, they adopt it, but if it does not please them, they let it go: and that on which they have had the first deliberation when they are sober, they consider again when they are drinking.
134. When they meet one another in the roads, by this you may discern whether those who meet are of equal rank,--for instead of greeting by words they kiss one another on the mouth; but if one of them is a little inferior to the other, they kiss one another on the cheeks, and if one is of much less noble rank than the other, he falls down before him and does worship to him.[140] And they honour of all most after themselves those nations which dwell nearest to them, and next those which dwell next nearest, and so they go on giving honour in proportion to distance; and they hold least in honour those who dwell furthest off from themselves, esteeming themselves to be by far the best of all the human race on every point, and thinking that others possess merit according to the proportion which is here stated,[141] and that those who dwell furthest from themselves are the worst. And under the supremacy of the Medes the various nations used also to govern one another according to the same rule as the Persians observe in giving honour,[142] the Medes governing the whole and in particular those who dwelt nearest to themselves, and these having rule over those who bordered upon them, and those again over the nations that were next to them: for the race went forward thus ever from government by themselves to government through others.
135. The Persians more than any other men admit foreign usages; for they both wear the Median dress judging it to be more comely than their own, and also for fighting the Egyptian corslet: moreover they adopt all kinds of luxuries when they hear of them, and in particular they have learnt from the Hellenes to have commerce with boys. They marry each one several lawful wives, and they get also a much larger number of concubines.
136. It is established as a sign of manly excellence next after excellence in fight, to be able to show many sons; and to those who have most the king sends gifts every year: for they consider number to be a source of strength. And they educate their children, beginning at five years old and going on till twenty, in three things only, in riding, in shooting, and in speaking the truth: but before the boy is five years old he does not come into the presence of his father, but lives with the women; and it is so done for this reason, that if the child should die while he is being bred up, he may not be the cause of any grief to his father.
137. I commend this custom of theirs, and also the one which is next to be mentioned, namely that neither the king himself shall put any to death for one cause alone, nor any of the other Persians for one cause alone shall do hurt that is irremediable to any of his own servants; but if after reckoning he finds that the wrongs done are more in number and greater than the services rendered,[143] then only he gives vent to his anger. Moreover they say that no one ever killed his own father or mother, but whatever deeds have been done which seemed to be of this nature, if examined must necessarily, they say, be found to be due either to changelings or to children of adulterous birth; for, say they, it is not reasonable to suppose that the true parent would be killed by his own son.
138. Whatever things it is not lawful for them to do, these it is not lawful for them even to speak of: and the most disgraceful thing in their estimation is to tell an lie, and next to this to owe money, this last for many other reasons, but especially because it is necessary, they say, for him who owes money, also sometimes to tell lies: and whosoever of the men of the city has leprosy or whiteness of skin, he does not come into a city nor mingle with the other Persians; and they say that he has these diseases because he has offended in some way against the Sun: but a stranger who is taken by these diseases, in many regions[144] they drive out of the country altogether, and also white doves, alleging against them the same cause. And into a river they neither make water nor spit, neither do they wash their hands in it, nor allow any other to do these things, but they reverence rivers very greatly.
139. This moreover also has chanced to them, which the Persians have themselves failed to notice but I have not failed to do so:--their names, which are formed to correspond with their bodily shapes or their magnificence of station, end all with the same letter, that letter which the Dorians call /san/ and the Ionians /sigma/; with this you will find, if you examine the matter, that all the Persian names end, not some with this and others with other letters, but all alike.
140. So much I am able to say for certain from my own knowledge about them: but what follows is reported about their dead as a secret mystery and not with clearness, namely that the body of a Persian man is not buried until it has been torn by a bird or a dog. (The Magians I know for a certainty have this practice, for they do it openly.) However that may be, the Persians cover the body with wax and then bury it in the earth. Now the Magians are distinguished in many ways from other men, as also from the priests in Egypt: for these last esteem it a matter of purity to kill no living creature except the animals which they sacrifice; but the Magians kill with their own hands all creatures except dogs and men, and they even make this a great end to aim at, killing both ants and serpents and all other creeping and flying things. About this custom then be it as it was from the first established; and I return now to the former narrative.[145]
*****
141. The Ionians and Aiolians, as soon as the Lydians had been subdued by the Persians, sent messengers to Cyrus at Sardis, desiring to be his subjects on the same terms as they had been subjects of Crœsus. And when he heard that which they proposed to him, he spoke to them a fable, saying that a certain player on the pipe saw fishes in the sea and played on his pipe, supposing that they would come out to land; but being deceived in his expectation, he took a casting-net and enclosed a great multitude of the fishes and drew them forth from the water: and when he saw them leaping about, he said to the fishes: "Stop dancing I pray you now, seeing that ye would not come out and dance before when I piped." Cyrus spoke this fable to the Ionians and Aiolians for this reason, because the Ionians had refused to comply before, when Cyrus himself by a messenger requested them to revolt from Crœsus, while now when the conquest had been made they were ready to submit to Cyrus. Thus he said to them in anger, and the Ionians, when they heard this answer brought back to their cities, put walls round about them severally, and gathered together to the Panionion, all except the men of Miletos, for with these alone Cyrus had sworn an agreement on the same terms as the Lydians had granted. The rest of the Ionians resolved by common consent to send messengers to Sparta, to ask the Spartans to help the Ionians.
142. These Ionians to whom belongs the Panionion had the fortune to build their cities in the most favourable position for climate and seasons of any men whom we know: for neither the regions above Ionia nor those below, neither those towards the East nor those towards the West,[146] produce the same results as Ionia itself, the regions in the one direction being oppressed by cold and moisture, and those in the other by heat and drought. And these do not use all the same speech, but have four different variations of language.[147] First of their cities on the side of the South lies Miletos, and next to it Myus and Priene. These are settlements made in Caria, and speak the same language with one another; and the following are in Lydia,-- Ephesos, Colophon, Lebedos, Teos, Clazomenai, Phocaia: these cities resemble not at all those mentioned before in the speech which they use, but they agree one with another. There remain besides three Ionian cities, of which two are established in the islands of Samos and Chios, and one is built upon the mainland, namely Erythrai: now the men of Chios and of Erythrai use the same form of language, but the Samians have one for themselves alone. Thus there result four separate forms of language.
143. Of these Ionians then those of Miletos were sheltered from danger, since they had sworn an agreement; and those of them who lived in islands had no cause for fear, for the Phenicians were not yet subjects of the Persians and the Persians themselves were not sea-men. Now these[148] were parted off from the other Ionians for no other reason than this:--The whole Hellenic nation was at that time weak, but of all its races the Ionian was much the weakest and of least account: except Athens, indeed, it had no considerable city. Now the other Ionians, and among them the Athenians, avoided the name, not wishing to be called Ionians, nay even now I perceive that the greater number of them are ashamed of the name: but these twelve cities not only prided themselves on the name but established a temple of their own, to which they gave the name of Panionion, and they made resolution not to grant a share in it to any other Ionians (nor indeed did any ask to share it except those of Smyrna); 144, just as the Dorians of that district which is now called the Five Cities[149] but was formerly called the Six Cities,[150] take care not to admit any of the neighbouring Dorians to the temple of Triopion, and even exclude from sharing in it those of their own body who commit any offence as regards the temple. For example, in the games of the Triopian Apollo they used formerly to set bronze tripods as prizes for the victors, and the rule was that those who received them should not carry them out of the temple but dedicate them then and there to the god. There was a man then of Halicarnassos, whose name was Agasicles, who being a victor paid no regard to this rule, but carried away the tripod to his own house and hung it up there upon a nail. On this ground the other five cities, Lindos, Ialysos and Cameiros, Cos and Cnidos, excluded the sixth city Halicarnassos from sharing in the temple.
145. Upon these they laid this penalty: but as for the Ionians, I think that the reason why they made of themselves twelve cities and would not receive any more into their body, was because when they dwelt in Peloponnesus there were of them twelve divisions, just as now there are twelve divisions of the Achaians who drove the Ionians out: for first, (beginning from the side of Sikyon) comes Pellene, then Aigeira and Aigai, in which last is the river Crathis with a perpetual flow (whence the river of the same name in Italy received its name), and Bura and Helike, to which the Ionians fled for refuge when they were worsted by the Achaians in fight, and Aigion and Rhypes and Patreis and Phareis and Olenos, where is the great river Peiros, and Dyme and Tritaieis, of which the last alone has an inland position.[151] These form now twelve divisions of the Achaians, and in former times they were divisions of the Ionians.
146. For this reason then the Ionians also made for themselves twelve cities; for at any rate to say that these are any more Ionians than the other Ionians, or have at all a nobler descent, is mere folly, considering that a large part of them are Abantians from Eubœa, who have no share even in the name of Ionia, and Minyai of Orchomenos have been mingled with them, and Cadmeians and Dryopians and Phokians who seceded from their native State and Molossians and Pelasgians of Arcadia and Dorians of Epidauros and many other races have been mingled with them; and those of them who set forth to their settlements from the City Hall of Athens and who esteem themselves the most noble by descent of the Ionians, these, I say, brought no women with them to their settlement, but took Carian women, whose parents they slew: and on account of this slaughter these women laid down for themselves a rule, imposing oaths on one another, and handed it on to their daughters, that they should never eat with their husbands, nor should a wife call her own husband by name, for this reason, because the Ionians had slain their fathers and husbands and children and then having done this had them to wife. This happened at Miletos.
147. Moreover some of them set Lykian kings over them, descendants of Glaucos and Hippolochos, while others were ruled by Cauconians of Pylos, descendants of Codros the son of Melanthos, and others again by princes of the two races combined. Since however these hold on to the name more than the other Ionians, let them be called, if they will, the Ionians of truly pure descent; but in fact all are Ionians who have their descent from Athens and who keep the feast of Apaturia; and this all keep except the men of Ephesos and Colophon: for these alone of all the Ionians do not keep the Apaturia, and that on the ground of some murder committed.
148. Now the Panionion is a sacred place on the north side of Mycale, set apart by common agreement of the Ionians for Poseidon of Helike[152]; and this Mycale is a promontory of the mainland running out Westwards towards Samos, where the Ionians gathering together from their cities used to hold a festival which they called the Panionia. (And not only the feasts of the Ionians but also those of all the Hellenes equally are subject to this rule, that their names all end in the same letter, just like the names of the Persians.)[153] These then are the Ionian cities: 149, and those of Aiolia are as follows:--Kyme, which is called Phriconis, Larisai, Neon-teichos, Temnos, Killa, Notion, Aigiroëssa, Pitane, Aigaiai, Myrina, Gryneia; these are the ancient cities of the Aiolians, eleven in number, since one, Smyrna, was severed from them by the Ionians; for these cities, that is those on the mainland, used also formerly to be twelve in number. And these Aiolians had the fortune to settle in a land which is more fertile than that of the Ionians but in respect of climate less favoured.[154]
More History