Explorers, Scientists & Inventors

Musicians, Painters & Artists

Poets, Writers & Philosophers

Native Americans & The Wild West

First Ladies

Popes

Troublemakers

Historians

Archaeologists

Royal Families

Tribes & Peoples

Assassinations in History
Who got slain, almost slain, when, how, why, and by whom?

Go to the Assassination Archive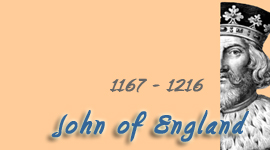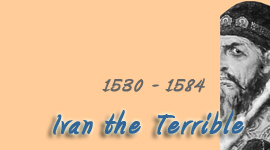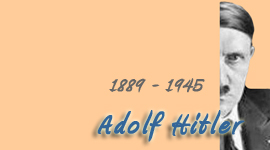 Online History Dictionary A - Z
All-Time Records in History
What was the bloodiest battle, the battle with the least casualties, who was the greatest military leader?

Go to Records in History
Casas Grandes Action
And this is how the folks in Casas Grandes take a big bite out of life these days. Watch and learn.

Mexican Revolution Links
Emiliano Zapata

Pancho Villa

Francisco I. Madero

Causes of the Mexican Revolution

Women in the Mexican Revolution

Summary of the Mexican Revolution

Mexican Revolution Timeline


Mexican Revolution Timeline
Mexican Revolution Timeline 1910

Mexican Revolution Timeline 1911

Mexican Revolution Timeline 1912

Mexican Revolution Timeline 1913

Mexican Revolution Timeline 1914

Mexican Revolution Timeline 1915

Mexican Revolution Timeline 1916

Mexican Revolution Timeline 1917

Mexican Revolution Timeline 1918

Mexican Revolution Timeline 1919

Mexican Revolution Timeline 1920
Mexican Revolution Maps

THE CONSTITUTIONALIST REVOLUTION
Click map to enlarge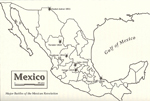 Mexican Revolution - Major Battles
Click map to enlarge

Morelos State, Mexico
Click map to enlarge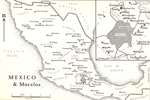 Mexico and the State Morelos
Click map to enlarge

BATTLE OF CASAS GRANDES
March 6, 1911

Battleground Casas Grandes, Chihuahua, Mexico

The Battle of Casas Grandes was part of the

Mexican Revolution.

Who fought the Battle of Casas Grandes?

A revolutionary army, led by Francisco I. Madero fought against the troops of the federal army. The feds were led by Colonel Agustín A. Valdez.

Mexican president at the time was Porfirio Diaz.

Who won the Battle of Casas Grandes? Who lost?

The feds won. The revolutionaries lost.


In Detail:

Madero and his men attacked at 5 in the morning. The battle was over after half a day.

The garrison of the 18th Batallion and other sections was approx 513 men. The attacking revolutionaries were around 800.

The reason for the revolutionaries' defeat showed up at 7.15 AM in form of the arrival of another column of 562 soldiers with two mortars under the command of Coronel Samuel García Cuellar, who got himself injured in the battle (wounded arm). Coronel Rafael Eguía Liz took his place.

In a later statement issued by Francisco Madero, the scouts of the revolutionaries were blamed for this defeat. Madero explains that it was the unexpected arrival of federal reinforcements that caused a panic among his army. The scouts, so Madero, had been shot.
What was the damage?
Of Madero's army, 58 persons were killed, among them
Salomón Dozal, Francisco Esteves, José Dolores Palomino, R.F. Harrington from El Paso, TX; Robert E. Lee from San Francisco, CA; Robert Evans from San Francisco, CA; Roy Glenn from Mineral Springs, TX.

Forty-one men were taken prisoners, among them
Eduardo F. Hay, Sidney Severs who was son of New York businessman B.E. Severs; Ferdinand Lieber from Mainz, Germany; Fred Oberbuscher from Engleswircher, Germany; Joe Murry, from New York, NY; J.W. Graham from Oklahoma City, OK; R.F. Lee from McKittrick, CA; John Harrison from Del Rio, TX; C.H. Rice from San Francisco, CA; William Current from Enid, OK; Bruce Robert Jacoby from Minneapolis, MN; Alfred Franke from Santa Ana, CA; James H. Jones from Duluth, MN; Floyd O. Martin from Denver, CO; C.C. Carlton from Williams, AZ; F.G. Fowler from Fort Worth, TX.

The feds also took 153 mules, 150 mounts, and 101 rifles. Francisco I. Madero was injured, see photo below, and so was his brother Raoul Madero.
Of the participating Americans, 15 were killed and 17 taken prisoner.
The garrison lost 13 men, 23 were injured. The column that came to their aid counted 24 dead soldiers and 37 injured, among them their leader as stated above; making it a total of 37 dead and 60 injured for the Federals.
Altogether, 95 people were killed in the Battle of Casas Grandes.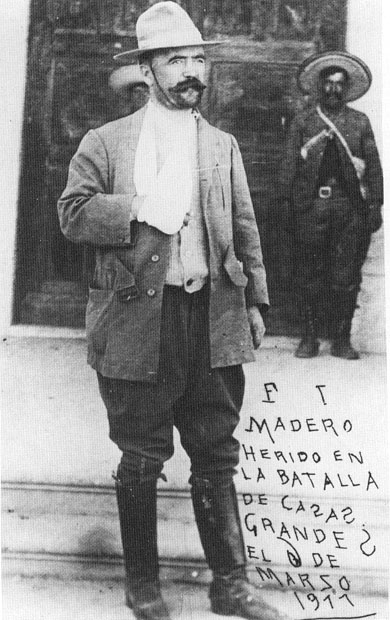 FRANCISCO I. MADERO INJURED IN THE
BATTLE OF CASAS GRANDES ON MARCH 6, 1911
Library of Congress


What else?
The town of Casas Grandes is located around 150 miles southwest of El Paso, Texas. See map above. At the time, it had approx. 500 inhabitants.
Check out the

List of all battles of the Mexican Revolution
More History