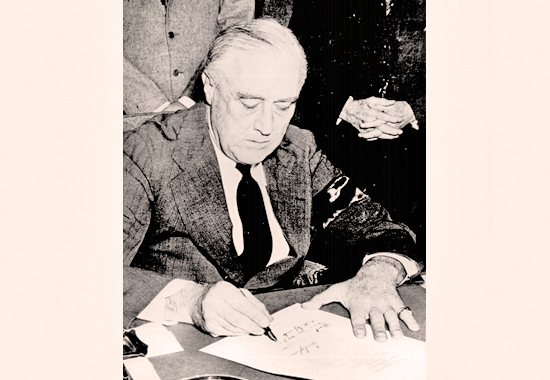 PRESIDENT ROOSEVELT SIGNING WAR DECLARATION AGAINST JAPAN - 1941


World War II Timeline - Year 1941


April 6, 1941
Hitler invades Yugoslavia and Greece.
April 29, 1941
Japanese Emperor Hirohito's 40th birthday.
Hitler delivers a speech at the Sportpalast in Berlin, stating that
"Today the German Wehrmacht is doubtlessly the most gigantic instrument of war of all time that there ever was on this earth."
June 22, 1941
German invasion of the Soviet Union is launched.
July 13, 1941
Courageously,

Bishop Von Galen delivers his sermon against the Gestapo,

We Demand Justice.
August 3, 1941


Bishop Von Galen gives his sermon against Nazi "euthanasia."
August 11, 1941
Francois Darlan becomes French ministre de la défense nationale.
September 24, 1941
Paul Legentilhomme becomes head of the Commissariat à la guerre of Free France (France libre).
December 6, 1941 — Afternoon
An Australian pilot is shot down over the Gulf of Siam after spotting the Japanese invasion fleet. He is the first ally to die in the Pacific phase of World War II.

December 7, 1941 — 07:50 a.m. local time


Pear Harbor Attack begins. Although the war started in 1939, the United States did not join the Allies until Japan bombed the American fleet in Pearl Harbor, Hawaii, on December 7, 1941.
Here are some

impressive Pearl Harbor photos.

Attack on Pearl Harbor - December 7, 1941
See here the

Pearl Harbor Attack timeline.
December 8, 1941 — 00:00 a.m. local time
Japan invades Malaya by attacking Kota Bharu. The forces of the United Kingdom will retreat from Malaya to Singapore on February 1, 1942.

December 8, 1941 — 02:00 a.m. local time
Japan invades Thailand at Singora and Patani. Thailand surrenders a few hours later.

December 8, 1941
President

Franklin D. Roosevelt signs the Declaration of War against Japan.
The Battle of Wake Island starts. This Battle will end on December 23, 1941.
Also December 8, 1941: Japanese forces start their invasion of the Philippines.

Japanese Landings in the Philippines: Luzon, Bataan Peninsula
December 23, 1941
Invading Japanese forces defeated U.S. troops at the Battle of Wake Island. This battle had started on December 8, 1941.
More History