Charles de Gaulle 1890-1970
The man's full name was Charles André Joseph Marie de Gaulle. He was a French soldier and politician.
Pronounce DE GAULLE


The Life of Charles de Gaulle
Charles attended the Military Academy of Saint Cyr. He later returned to the Academy for a year as a teacher.
He fought in both World Wars.

During

World War I Charles de Gaulle saw battle at Verdun.

On June 6, 1940, during

World War II, de Gaulle became undersecretary of state for defense and war. A few days later he fled to London because he opposed Marshal Pétain's German-French peace agreement which Petain saw necessary after the Germans had invaded the Low Countries and France in May 1940. Welcome to the blitzkrieg.
While de Gaulle was abroad, a French military court at home sentenced him to death.
Still in the UK, de Gaulle organized and rallied the Free French forces, which later set up headquarters in Algeria.
On June 18, 1940, the BBC broadcast from London de Gaulle's

Flame of the French Resistance speech.
And here is the

French version of the radio speech.
Announcements of this message were posted all over town.

"FRANCE LOST A BATTLE BUT NOT THE WAR"
In Paris, the Germans came and went. On August 25, 1944, Charles de Gaulle could finally proclaim a

Paris Liberated.
Go here for the original French version of the speech -

Paris Libéré.
And speaking of Algeria.
Algeria came under French rule in 1848. In the 1950s it became apparent that the people were ready to go their own ways, and de Gaulle had his hands full. France recognized Algeria's independence in 1962. Many people lost their lives in the process.
Attempted Assassinations on Charles de Gaulle
September 8, 1961, at Crancey, France - The following is an excerpt from the excellent book Just 2 Seconds (Gavin de Becker et al.)
De Gaulle and his wife were being driven in their Citroën Deesse to their country home. A bomb made from a propane cylinder filled with 100 pounds of plastic explosives was buried in a sand pile alongside the road. A canister holding 15 liters of napalm lay next to the cylinder.

De Gaulle's car approached the site at about 70mph as the bomb was detonated. The heavy car lurched and de Gaulle ordered the chauffeur to drive through the fireball. No one was harmed, but they stopped to change cars at a nearby barrack.

There were 31 documented attempts to assassinate de Gaulle, but they all failed.

August 22, 1962, at Petit-Clamart, France
De Gaulle and his wife were being driven again to their country home, except this time an identical Citroën with several bodyguards drove in front and several motorcycles followed behind. Cars filled with fifteen OAS terrorists armed with submachine guns, grenades, and Molotov cocktails were waiting in ambush.

Due to the dark and the high speed of de Gaulle's motorcade, the attackers didn't have time to block the road, and simply opened fire on the motorcade. The motorcade continued on without stopping, and the bodyguards relied on evasive driving and speed to escape.

Twelve bullets pierced de Gaulle's car, a front tire was shot out as well as the back window, but the de Gaulle's were uninjured.

Check out Assassinations in History.
And speaking of vintage Citroen: Here is de Gaulle in his Déesse:

Short-attention-spanners: Hang in there at least until 0:45,
that is IF you like the vintage DS.

Vive la Déesse ! Vive la France !

Charles de Gaulle and Canada
In 1967, Canada's 100th birthday, the Canadians invited Charles de Gaulle for a visit on the occasion of the opening of the EXPO World Fair at Montreal. De Gaulle accepted the invitation and caused an outrage, which might or might not have been deliberately, with his

Vive le Québec Libre ! speech on July 24, 1967.
Go here for the English translation of the speech -

Long Live Free Quebec!
The Writings of Charles de Gaulle
1924 - La Discorde chez l'ennemi (Discord Among the Enemy)
1932 - Le Fil de l'épée (The Edge of the Sword)
1934 - Vers l'armée de métier (The Army of the Future)
1938 - La France et son armée (France and Her Army)
Charles de Gaulle Timeline
1890, November 22 - Birth in Lille, France

1913 Joins infantry

1914 - 1918 World War I

1916 Gets captured during WWI

1927 Promoted major

1939 - 1945 World War II

1940 Promoted brigadier general; becomes undersecretary of war

1940, June - Flees to London

1943, June - Becomes co-president with Gen. Henri Giraud of the
French Committee of National Liberation at Algiers.

1944, June - the French Committee of National Liberation becomes provisional government of France

1945, November - Elected provisional president of France

1946, January - resigns

1947 Becomes head of the party Rassemblement du Peuple Français (Rally of the French People)

1953 Dissolves RPF and retires

1959 January - Inaugurated as the first president of the Fifth Republic

1965 Re-elected as president

1969 Resigns

1970, November 9 - Death in Colombey-les-deux-Églises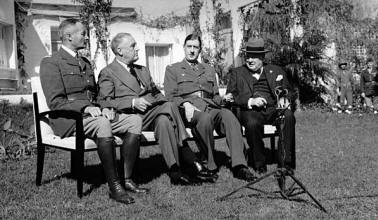 CHARLES DE GAULLE AT THE CASABLANCA CONFERENCE - JANUARY 1943
FROM LEFT: HENRI GIRAUD, FRANKLIN D. ROOSEVELT, CHARLES DE GAULLE, WINSTON CHURCHILL
More History