Rasputin's Family, Life, and Travels

Early in his life, Rasputin got his young wife Proskovia Fyodorovna four times pregnant. As all responsible fathers do, Rasputin figured it was high time to leave, and he traveled the world.
Rasputin's travels brought him as far as Jerusalem and Mount Athos, Greece. If you would like to know the exact location of Mount Athos, here's a map. Look for the tiny red dot in the center of the red circle.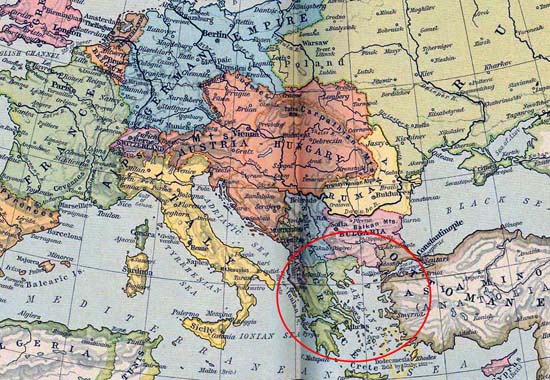 MOUNT ATHOS ON A MAP THAT WAS RELEVANT IN RASPUTIN'S DAYS
Click to enlarge

Today, you are welcome to visit Mount Athos, also known as the Holy Mountain, which is the home to many Greek Orthodox monks. But you do have to be male. No female is allowed near the Mount, be it human or animal.
Back to Rasputin.
Rasputin continued his cross-country wandering and ended up at St. Petersburg where he eventually became the Czarina's personal adviser.
Wee Alexis and Hemophilia

How did Rasputin weasel his way into the inner circles at the Russian Court?
Czarina Alexandra's son Alexis suffered from a disease called hemophilia, also spelled haemophilia. Rasputin was somehow able to ease wee Alexis' suffering, which ensured him the devoted gratitude that only the mother of a sick child can bestow.
If you suffer from hemophilia your blood doesn't clot. In other words, if you accidentally cut yourself, you will bleed until you're empty.
Hemophilia is a hereditary condition, meaning it's genetic. Females are carriers, males are affected. And it gets passed on like this, and the following is a quote from Encyclopaedia Britannica.

Transmission of hemophilia

(A) Mating of affected hemophilic man and normal woman—all sons normal, all daughters carriers. (B) Mating of carrier woman and normal man—half of sons normal and half affected; half of daughters carriers, half normal.

TRANSMISSION OF HEMOPHILIA
Encyclopaedia Britannica
In the case of wee Alexis, the chart looks like this.

TRANSMISSION OF HEMOPHILIA IN QUEEN VICTORIA'S FAMILY TREE
National Center for Case Study Teaching in Science, University of Buffalo
Click to enlarge
Enough of Alexis and back to Rasputin.
Rasputin's reputation became that of a healer and a seer, and the ladies couldn't get enough of him. Liking the ride, Rasputin was very fond of women, and enjoyed them preferably in bunches. Here we have him surrounded by some of his admirers.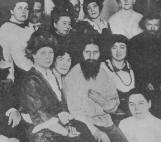 RASPUTIN GIVING THE LADIES WHAT THEY WANT
Photo: Liberty's Victorious Conflict: A Photographic History of the World War
(Woman's Weekly, Chicago, 1918)



How to Kill a Healer

Of course, Rasputin's influence provoked misgivings.
Extreme Russian conservatives decided it was time to end Rasputin's life and they invited him for tea and poison cookies. Rasputin ate and drank it all without showing any sign of being poisoned. His host, slightly unnerved, shot him just to be on the safe side.
But the man wouldn't die. Rasputin dragged himself into the courtyard where he got shot again. Seeing that he was still alive after getting shot twice, Rasputin's assassins ran out of patience, adorned him with heavy objects, and threw him into the icy river Neva, where he drowned.
Officially, that is how Rasputin died. Unofficially, he was seen years later at a hot dog stand in Tijuana, talking to Elvis.

Rasputin - Short Biography


Sometime around 1872

Birth in Pokrovskoye, Siberia

Sometime around 1890

Turns religious

Sometime around 1891

Marries Proskovia

1903

Arrives in St. Petersburg after years of traveling

1905

Gets introduced to the royal family

1908

Royal family asks him to cure their son's sickness

September 5, 1915

Nicholas II takes over as commander-in-chief and goes to join his troops in World War I. Left alone with Czarina Alexandra, Rasputin is now more powerful than ever.

Night of December 29 / 30, 1916
(December 16 / 17, old style)

Death in Petrograd (today's St. Petersburg), Russia