Lenin was well read, had an excellent memory, and was noted for his incredible energy and directness.
He was passionately ruthless and when he spoke things were crisp and clear. Among the most disciplined, focused, and ambitious revolutionaries in history, Lenin definitely scores in the Top 3.
Picture at Top
Lenin in Gorky, August 1922. Photo: The Lenin Archive, Marxist.org
Lenin's Name
Lenin was born Vladimir Ilyich (or Ilich) Ulyanov.
He adopted the pseudonym Lenin during his underground party work after his exile in Siberia. The word Lenin is believed to have been derived from the Russian river Lena.
Sometimes, Vladimir signed with N. Lenin. People filled the gap in their minds and Nikolai, a common Russian name, was invented.
Lenin's Family
Lenin's father was Ilya Ulyanov, a school inspector.
Lenin's mother was Maria Ulyanova, nee Blank.

Lenin had three sisters and two brothers. His siblings were Anna, Alexander, Olga, Dmitry, and Maria.
Lenin and all his siblings became revolutionaries. His brother Alexander (or Aleksander, or Aleksandr) was hanged for his involvement in a conspiracy against the life of

Czar Alexander III in 1886 or 1887. Alexander III, by the way, was the father of

Czar Nicholas II, the one who got slain by the Bolsheviks in 1918.
Lenin's sister Olga died in 1891.


In 1898, Lenin lived the deportee's dream and married Nadezhda Krupskaya in Siberia where both had been in exile at the time. They had no children. The two had met about seven years ago.

VLADIMIR I. LENIN IN 1920
The Lenin Archive, Marxist.org


Early Years
Lenin was born and grew up in Simbirsk, western Russia.
In 1924 and in Lenin's honor, Simbirsk was renamed Ulyanovsk. Today, you are welcome to visit Lenin's birthplace, to tour his old apartment, and to marvel at the town's Lenin memorial. See more on

this site.
Back to Lenin's life.
Because of his brother Alexander's involvement in the last Czar's assassination, Lenin was earmarked by the government. His career options were consequently limited.
Lenin went to Kazan University and practiced law in Samara and St. Petersburg. He became a Marxist and was exiled to Siberia for his revolutionary activities.
The Revolution of 1917
After his exile, Lenin left Russia in 1900.
In the

Revolution of 1917 Czar

Nicholas II was replaced by a Provisional Government. In April 1917, Lenin returned to Petrograd and became the main leader of the

Bolsheviks, later known as the Russian Communist Party. The Russian word Bolshevik stands for members of the majority.
Lenin refused to collaborate with the Provisional Government. He presented his April Theses, or Aprelskiye Tezisy if you speak Russian, his own revolutionary agenda.
Subsequently, and only six months after Leninís return to Russia, the Provisional Government, in turn, was overthrown by the Bolsheviks.
After the Revolution of 1917
Was Lenin satisfied with the outcome of the Bolshevik Revolution?
Not quite. But he considered it a step into the right direction. Lenin continued to fight for reforms and radical changes to modernize his country on all levels, society, politics, economy, culture etc
After the Revolution of 1917, counterrevolutionary forces gained momentum and in 1918 the country erupted into a Civil War, which was to last until 1920. The Bolsheviks consolidated their power and set up a dictatorship by the Communist party.

Land was taken away from private owners and distributed among the people. Workers were put in control of factories, traditional religion was abolished, opposition was ruthlessly suppressed, and the death penalty became common.

As Chairman of the Council of Peopleís Commissars, Lenin was the head of the state.

Go here to find out

What's the difference between the communism of Marx, Stalin, and Lenin?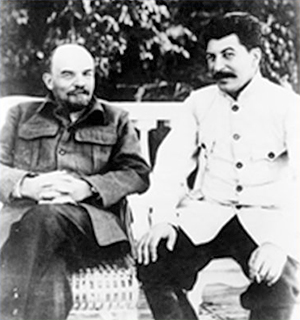 LENIN AND STALIN AROUND 1922
Library of Congress
Lenin's Death
After falling seriously ill, Lenin dictated his final notes stating the need for changes within the government. He also criticized several government members,

Stalin in particular. Lenin did not appoint a successor.

After a series of strokes, Lenin died on January 21, 1924.

Aleksey Rykov succeeded him as Chairman of the Council of Commissars. Leninís Last Testament was concealed until 1956.
Lenin Facts
Lenin survived an assassination attempt in August 1918. In April 1922 one of the bullets was extracted from his neck.

He was noted for his unemotional rationality.

Lenin advocated extremely cruel revolutionary measures. He often doubted, however, whether the Russian character was capable of this. He said, Soft, too soft is the Russian.
See more under

Communism and

politburo

Go here for the

Vladimir Ilyich Lenin Timeline
Lenin's Short Biography


April 22, 1870

Birth in Simbirsk, Russia

1887

Kazan University

1889

Becomes a Marxist

1892

Practices law in Samara

1893

Moves to St. Petersburg, works as a legal assistant

1895

Travels to Germany and meets Wilhelm Liebknecht and others, travels to France and meets Paul Laforgue and others. In December, Lenin gets arrested

1896

While under arrest, Lenin's girl Nadezhda Krupskaya gets arrested. After approx. a year in jail, Lenin gets exiled to Siberia, Krupskaya obtains permission to join him.

1897 - 1900

Exile in Siberia

1900

Lives briefly in Pskov and works in the Bureau of Statistics, Goes abroad, travels Europe. Together with Krupskaya, he settles in Geneva.

1903

Bolsheviks and Mensheviks split

1905

Russian Revolution of 1905

1914

Lenin and his wife are in Krakow, Poland, when WWI starts.

April 1917

Lenin returns to Petrograd

1917

Bolshevik Revolution

1918 - 1920

Russian Civil War

1919

Comintern founded

1922

Union of Soviet Socialist Republics (USSR) founded

1923

Lenin suffers from a serious stroke

January 21, 1924

Death in Gorki, Russia

LENIN 1920
Library of Congress
Click to enlarge
Lenin's Writings
1917 - Imperialism

1917 - State and Revolution

LENIN'S TOMB, RED SQUARE, MOSCOW
Architect: Alexei Shchusev
Photo NASA