Catherine II the Great 1729-1796
Image Above

Portrait of Catherine II

Oil on canvas, late 1776 - early 1777, by Alexander Roslin

State Hermitage Museum, St. Petersburg


Catherine was originally the German lady Sophie Friederike Auguste.
Sophie became Catherine II, the Empress of Russia from 1762 until 1796. She was an enlightened despot and all in all a pretty tough bone.

The

American Revolution was fought during her reign, from 1775-1783, which gave cause to the League of Armed Neutrality, concluded in July 1780 and headed by Catherine.
Russia allied itself with Denmark and Sweden against the British who stopped and searched as they pleased all vessels in the Baltic, in order to avoid reinforcements that were on their way to American revolutionaries.
See also

Vergennes.

And maybe

Forms of Governments.

CATHERINE II THE GREAT
1729 - 1796
Catherine was appalled by her son Pavel's (Paul's) weakness and decided to skip him as heir altogether. Instead, she wanted Pavel's son

Alexander I to become her successor.
This, however, didn't happen. After Catherine's death, Pavel became Russia's

Czar Paul I.

Catherine II
© Château de Versailles
Here is

Catherine the Great's timeline.

See also

Governments of Russia
And here is the map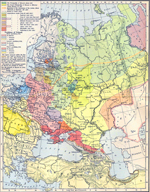 RUSSIA IN EUROPE
Click map to enlarge
More History