Charles Gravier, comte de Vergennes 1719-1787

Putting the Rev into the American Revolution
Vergennes was the French Foreign Minister from 1774 to his death in 1787.
Image Above
Charles Gravier, comte de Vergennes, Ministre d'Etat

Oil on canvas by unknown artist

Musée national des châteaux de Versailles et de Trianon

Appointed as such by

King Louis XVI, Vergennes welcomed the opportunity to scheme against archrival Britain. This opportunity presented itself in form of the

American Revolution, which was fought 1775-1783.
Vergennes saw to it that money, military supplies, and eventually manpower reached the revolutionaries, aiding them in their struggle for independence from the British.
As it turned out, French support was crucial to the Colonists' victory.
Vergennes' Career: The Early Years — 1719-1749
Charles Gravier, count of Vergennes, was born on December 28, 1719, at Dijon, France. At the time,

Louis XV was King of France (ruled 1715-1774).
He received basic education at a Jesuit school.
Vergennes' father was president of the parlement at Dijon. His great-uncle was the French ambassador Théodore Chevignard de Chavigny.
Wee Charles, too, chose a career as diplomat and politician.

1740 - Worked as his uncle's secretary at Lisbon.
1743 - Worked as his uncle's secretary at Frankfurt.
Vergennes was noticed by the Marquis d'Argenson, Secretary of State for Foreign Affairs at the time, and was sent to Treves (Trier) as ambassador.
Vergennes' Career: Gathering Momentum — 1750-1753
1750 - Ambassador to Trier
1752 - Ambassador to Hanover
Vergennes' Career: Making an Impact — 1754-1787
:: Ottoman Empire
1754-1768 - Ambassador to Constantinople, capital of the Ottoman Empire.
1756-1763 - Seven Years' War

1761 - Family Compact, Pacte de Famille, between France and Spain. Both countries were ruled by the House of Bourbon.
Vergennes' task was to provoke a war between Russia and the Ottoman Empire. Job accomplished. Back to Versailles.
1768-1774 - Russo-Turkish War


:: Sweden
1771-1774 - Ambassador to Sweden.
Here, in August 1772, Vergennes supported

King Gustav III's bloodless coup against parliament.


:: France
May 10, 1774 - King

Louis XV died and his grandson Louis-Auguste becomes

King Louis XVI.
June 6, 1774 - The new king appoints Vergennes as his Secrétaire d'État aux Affaires étrangères, or Foreign Minister. Vergennes will hold this position until his death.


1775-1783 - American Revolution

On May 2, 1776, Louis XVI decides to send arms and supplies worth one million livres to the American revolutionaries.
Thus, even before their Declaration of Independence, Vergennes was giving French aid to the American revolutionaries by sending weapons and, starting in May 1776, by sending money.

Turgot, French

Controller General of Finances, was against this additional expense account. On May 12, 1776, and not unrelated to the difference of opinion at hand, Turgot was fired.

Anne Robert Jacques Turgot
© REGION LIMOUSIN. Service de l'inventaire et du patrimoine culturel.


July 4, 1776 - American Declaration of Independence

December 1776 -

Benjamin Franklin came over for a visit. He received a huge welcome, but even the Big B couldn't persuade the French to officially commit to the cause of the American revolutionaries just yet. Emphasis on officially. Secret aid was not a problem.
Finally, on February 6, 1778, Vergennes concluded a formal alliance between France and the Colonists, recognizing the creation of the independent United States. In fact, two treaties were concluded on this day. One in case Britain and France went to war.
Who signed these treaties? Vergennes sent Secretary of State Conrad Alexandre Gérard to sign for France. For the Americans signed their Commissioners Benjamin Franklin, Silas Deane, and Arthur Lee.

In March 1778, the first U.S. consular post opened in Bordeaux, France.


France declared war on Great Britain on July 10, 1778.


:: Why did the French keep their support secret for two years?
For one thing, they waited for Spain to chime in, last but not least because of the Family Compact from 1761.
What family?
The

Bourbon family. Charles III, who ruled as king of Spain 1759-1788, was the son of Philip V, born at Versailles in 1683. Philip V was the son of Louis, aka Le Grand Dauphin, who in turn was the son of a major gun,

Louis XIV.
Back to the issue.
So, being herself an owner of many colonies, Spain naturally hesitated to officially endorse revolutionaries who were ready to shake off their colonist shackles.
And the other train of thought was that France wanted to be sure that the revolutionaries had enough oomph to see it through. If France put her name on the flags of the American revolutionaries and their revolt deflated, France would have a lot of mopping up to do in the foreign affairs department.
However, after American victories in the

Battles of Saratoga in September and October 1777, also called the turning point in the American Revolution, France decided this horse would win. So they officially pledged allegiance.
July 3, 1778-1779 -

War of the Bavarian Succession. Vergennes was for an alliance with Austria, but against Austria's annexation of Bavaria. At the same time, Vergennes was categorically against a French expansion into the Netherlands.

June 1779 - Spain joined France in the war against Britain. It took a while, but when it became clear that Britain refused to let go of Gibraltar, Spain was in.

April 1780 - A French army landed at Rhode Island. See also

Lafayette.

July 1780 - League of Armed Neutrality.
Led by Russian's Catherine II, and joined by Denmark and Sweden against Britain's habit to search neutral vessels in the Baltic for contraband, or as some say, Britain's attempt to blockade other country's commerce with the American revolutionaries.

When the Dutch toyed with the idea of joining, Britain declared war, thus making them a country at war and disqualifying them from joining as a neutral nation:

December 20, 1780 - Britain declared war on the Dutch
May 1781 - French naval assistance was of the essence for the Americans. French Admiral François-Joseph-Paul de Grasse received orders to sail his fleet from the West Indies to Chesapeake Bay.
British Admiral Thomas Graves engaged on September 5, 1781. This was the

Battle of Virginia Capes. The French won and laid the foundation for the victory at the

Siege of Yorktown in August-October 1781, which ended in Cornwallis' surrender on October 19, 1781.
This right here illustrated the crucial importance of French support in winning the American Revolution.

September 1783 - Already being Foreign Minister, Vergennes gets additionally appointed to President of the Council (Board) of Finance (Conseil des finances).

On September 3, 1783, Vergennes negotiated peace with Great Britain.

Wrapping up the American Revolution, he didn't try to gain territory in North America. Instead he secured Senegal, including Gorée Island in West Africa and Tobago and Saint Lucia in the West Indies, and an extension of fishing rights in Newfoundland. However, he couldn't secure French gains in India.

November 1783 -

Calonne becomes

controller general of finances.
Vergennes was not a fan of Calonne, especially after Calonne succeeded in getting the

Assembly of Notables on its way. Louis agreed end of November 1786 to assemble the Notables on January 29, 1787.
Vergennes joined forces with Armand Thomas Hue de Miromesnil, who was the Keeper of the Seals (Garde des Sceaux), and who also had been against Turgot back in the days. Together they plotted Calonne's downfall, who was dismissed in April 1787, a few months after Vergennes' death.

In September 1786, Vergennes concluded a commercial treaty with England. He wanted to make nice in order to prevent the war spreading onto the European continent.
When Austria and Russia designed to partition the Ottoman Empire, Vergennes was against it.
Vergennes died on February 13, 1787, at Versailles, France.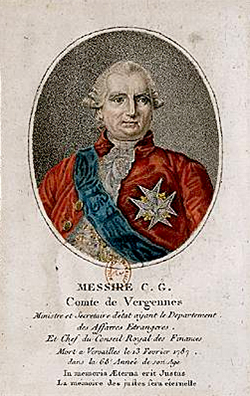 Messire C.G. Comte de Vergennes
Colored engraving, 18th century
Bibliothèque Nationale de France


Were the French and the Americans Really Friends?
In the sense of two countries being joined by the same goal, absolutely. However, completely selfless? No such thing in politics.
The French would have had to fight Britain with or without American Revolution as a catalyst.
Another motivation was the prospect of future economic growth, one of the reasons why France didn't press for territorial gain in North America. Instead, and in the face of a persistently empty purse, it seemed more sensible to establish economic ties.

The Statue of Liberty, by the way, a symbol of friendship between France and the United States, wasn't dedicated until October 28, 1886.
Vergennes Trivia
The town of Vergennes in Vermont, established in 1788, was named in honor of Charles Gravier, comte de Vergennes.

Vergennes - Vermont's Oldest City
Vergennes City Council
More History