Louis XV 1710-1774
Image Above

Louis XV

Oil on canvas by unknown artist after the painting by L.M. Van Loo

Versailles

Louis XV, also called Louis le Bien-Aimé or The Well-Beloved, was king of France from 1715 until his death in 1774.
He followed his great-grandfather,

Louis XIV, to the throne, who had died on September 1, 1715.
Louis XV died on May 10, 1774, and his grandson Louis-Auguste became

Louis XVI.
Here is more about Louis' family, the

House of Bourbon.
See also

Governments of France.
The Reign of Louis XV
For the first time in history did a French officer become

maréchal général de France, when Louis XV bestowed this honor on Claude Louis Hector de Villars in 1733.
In 1756, the European part of the

Seven Years' War broke out.
Here is a

list of the men who acted as Controller General under Louis XV.
Assassination Attempt on Louis XV
Fourty-two year old Robert François Damiens, a former soldier then servant, stabbed Louis XV at the Versailles castle with a penknife on January 5, 1757.
He was tortured and quartered later that year. Apparently, he was mentally deranged.
The Brittany Affair (L'affaire de Bretagne)
The Brittany Affair started out as the private feud between
Louis-René de Caradeuc de La Chalotais,
leader (procureur-général) of the parlement at Rennes (Brittany),
fighting the Jesuits
and
Emmanuel Armand de Vignerot du Plessis de Richelieu, Duc d'Aiguillon,
royal chief administrator of Brittany,
great-nephew of Cardinal Richelieu
This affair turned into the open struggle between
Louis XV
and
his parlements
Here is Brittany on a map:

Province of Brittany, France
Click to enlarge
In detail:
In 1765, the parlement of Brittany, led by Chalotais, accused d'Aiguillon of arbitrary actions. In turn, Aiguillon tweaked the law so that Chalotais' son was not able to inherit his father's office. And right back at him, Chalotais, officially defending the privileges of the province, was breathing down d'Aiguillon's neck with unprecedented vigor.
The parlement of Rennes went on strike in May 1765.
The King was going to protect his representative d'Aiguillon, so, on November 10, 1765, Chalotais and four other magistrates were arrested.
In 1766, Chalotais was free to go, but only into exile to Saintes.
In 1768, d'Aiguillon had to resign.
On April 4, 1770, d'Aiguillon himself was ordered to appear before the parlement of Paris. But Louis annulled the charges and d'Aiguillon became Foreign Secretary in June 1771.
In 1771, Chancellor René-Nicolas-Charles-Augustin de Maupeou initiated a judicial spring cleaning. He exiled the unruly members of parlement, set up regional courts, abolished the sale of office and replaced it with judges on the payroll, and cut the powers of the parlement to oppose registration of royal edicts, which in turn enabled Finance Minister J.M. Terray to implement much needed reforms.
This was the Parlement Maupeou and it was working well until

Louis XVI decided to dig his own grave by abolishing it in 1774.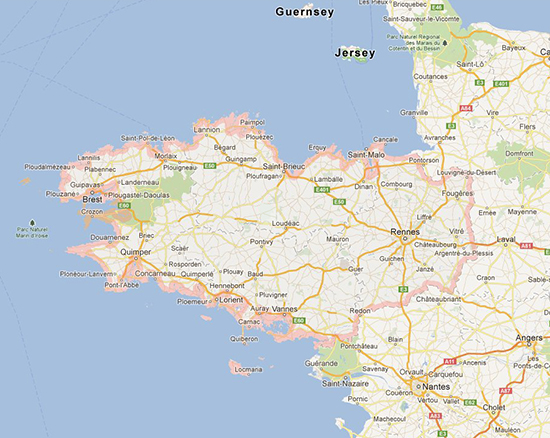 Today's Map of Brittany (région), Rennes (capital), France
Google map
Regarding Louis' finances, see also

Taxation in Pre-Revolutionary France and a

list of all controller generals of finance.
More History