Fidel Castro - Born 1926
Image Above

Fidel Castro, president of Cuba, at a meeting of the United Nations General Assembly

Photographer: Warren K. Leffler, September 22, 1960


Fidel's full name is Fidel Castro Ruz. He is the

communist leader of Cuba since 1959, and will be maybe forever.
The Family of Fidel Castro
Fidel's father, Angel Castro y Argiz, immigrated from Spain. His mother was Lina Ruz González.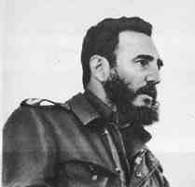 Fidel Castro
Full Time Revolutionary
Growing up, Fidel Castro was a revolutionary with a busy schedule. In 1947, he tried to overthrow the government of the Dominican Republic, in 1948 it was the government of Colombia, in 1953 it was dictator Fulgencio Batista in Cuba.

The fight against Batista escalated on July 26, 1953. Trying to provoke an uprising, Castro found 160 like-minded revolutionaries that were ready to die for a worthy cause. Together they attacked the Moncada Garrison in Santiago de Cuba.
But it didn't go as planned. As expected, most men were killed, Castro was arrested, but the mass movement didn't find its spark.
On his court date in 1953, Castro delivered his

History Will Absolve Me speech.
And here is the Spanish version of the speech,

La Historia Me Absolvera.

Batista sent Fidel Castro to prison.
The Cuban Revolution
In 1955, Fidel received amnesty, went to Mexico, reflected, recharged, reorganized, formed the Movimiento 26 de Julio, the 26th of July Movement, and came back to Cuba in 1956 together with his brother Raul and

Ernesto "Che" Guevara to fight dictator Batista as guerrillas once again.
The

Cuban Revolution was successful.
Batista packed his bags and escaped to Spain. It is said that Fidel's 800 men defeated Batista's 30,000 men. Fidel Castro officially overthrew the Batista regime on January 1, 1959.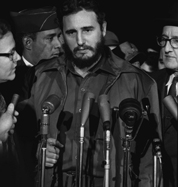 FIDEL CASTRO IN 1959
Click image to enlarge.



The Bay of Pigs Invasion
Once in power, Fidel put Communism on the menu. All Western and capitalist ideas were rooted out.

What is Communism?

When Fidel Castro snuggled up with the Soviet Union, the U.S. government grew desperate, threw some weapons into the laps of Cuban exiles, and told them to go back and get rid of Fidel.
They arrived in the

Bay of Pigs in 1961, where Fidel had them for breakfast.
The Cuban Missile Crisis
It really got prickly when on October 14, 1962, a U.S. plane took photographs of Soviet missiles stationed on Cuba. It was reported that with these missiles, Fidel could target US cities with nuclear weapons.
Welcome to the

Cuban Missile Crisis that put

JFK in the hot seat.
And here is

JFK's speech on the Cuban Missile Crisis.

The Cuban Missile Crisis was solved when the super powers at last came to an agreement:
The Soviet Union promised to remove their weapons from Cuba and the US promised to remove their weapons from Turkey and to leave Fidel the heck alone.
Fidel Meandering
Ever the revolutionary, Fidel Castro showed up with his troops in Angola and Ethiopia.

In 1980, Fidel felt ornery and ordered to let 125,000 emigrants out of his country at once, a time for which U.S. immigration officers are still grateful.

In 1993, Fidel Castro's daughter, Alina Fernandez, immigrated too. But is there any proof of her blood relation? Some say her story has holes.
In 2006, Fidel Castro stepped back from government affairs and his younger brother Raul Castro took over. But Fidel still kept going and was active on official business.
On February 19, 2008, believe it or not, Fidel announced that he retires. Was he being serious or did he just feel ornery again? Here's a news report from that very day.

On August 13, 2011, Fidel Castro celebrated his 85th birthday. Here is Fidel and Raul, demonstrating the kind of spirit that kept them going since a lifetime:

Fidel and Raul Castro in 2011
Photo: TheUSNews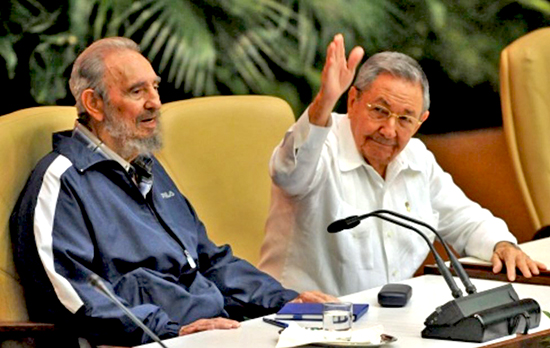 File picture dated April 19, 2011: Fidel Castro and his brother, Cuban President Raul Castro, attending the closing session of the 6th Congress
of the party in Havana, Cuba.
Photo: EPA/BGNES on Novinite
More Fidel
Here is your page for

Fidel Castro speeches 1959 - 2008.
And here is USA Today's

Bay of Pigs files show CIA bombers hit by 'friendly fire'. The article is from August 15, 2011.
If you like movies, Andy Garcia's The Lost City (2005) might be for you. Welcome to Cuba in 1958. Here is a trailer:
More History