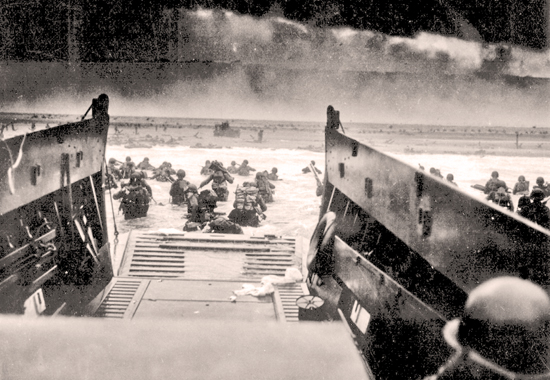 LANDING ON THE COAST OF FRANCE UNDER HEAVY NAZI FIRE - 1944


World War II Timeline - Year 1944

April 4, 1944
André Diethelm succeeds Andre Le Troquer as head of the Commissariat à la guerre of Free France (France libre).

June 6, 1944
Normandy Invasion - Code Name: Operation Overlord
On June 6, 1944, the most remembered D-Day of World War II, the Allies invaded France on the Normandy coast.
It was the largest invasion force in history and included over 5,000 ships, 11,000 airplanes, and 160,000 troops.
The Normandy Invasion was led by Supreme Allied Commander, General

Dwight D. Eisenhower. This was the beginning of the end of World War II. Approx 7,000 allied soldiers were killed on this day.

Map of Operation Overlord - 1944
Click map to enlarge

Go here for

Franklin D. Roosevelt's D-Day Prayer.

August 25, 1944
The Allies recapture Paris.

Charles de Gaulle gives his speech

Paris Liberated.

September 9, 1944
André Diethelm becomes War Minister (ministre de la guerre) of the provisionally government of the French Republic.

October 23, 1944
The

Battle of Leyte Gulf begins. This battle will end on October 26, 1944.

October 26, 1944
The

Battle of Leyte Gulf ends. This battle had started on October 23, 1944.

November 21, 1944


Charles de Gaulle becomes French ministre de la défense nationale. Edmond Michelet becomes French ministre des armées.

December 16, 1944
The Battle of the Bulge, also called the Battle of the Ardennes starts. This battle will end on January 16, 1945.
More History