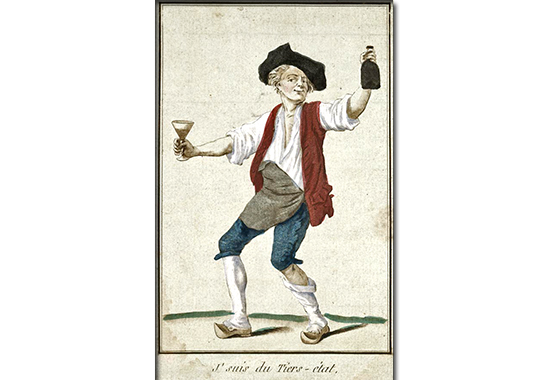 "J'suis du Tiers-état." — "I'm the Third Estate"
Proclamation of the National Assembly 1789
The National Assembly, or in French Assemblée Nationale, was proclaimed by the

Third Estate on June 17, 1789.
Here follows the English translation of the declaration of the constitution of the National Assembly:
---
The Assembly, deliberating after having verified its powers, recognizes that this Assembly is already composed of representatives sent directly by at least ninety-six percent of the nation.

Such a mass of deputies cannot remain inactive, on account of the absence of the deputies of some bailliages [French prefecture], or of certain classes of citizens; for the absentees, who have been summoned, cannot prevent those present from the full exercise of their rights, especially when the exercise of these rights is an imperious and pressing duty.

Besides, since it belongs only to the representatives who have verified their powers, to concur in the formation of the national wish, and since all the representatives so verified should be in this Assembly, it is therefore indispensable to conclude that it belongs to it, and to it only, to interpret and exhibit the general will of the nation; so that between the Throne and this Assembly, there can exist no veto, no negative power.
The Assembly therefore declares,
That the common work of National Reform can, and ought to be commenced without delay by the Deputies present, and that they ought to pursue it without interruption, and without obstacles.

The title of National Assembly is the only one befitting the Assembly in the actual situation of affairs, because the members composing it are the only representatives lawfully and publicly acknowledged and verified; because they are directly sent by almost the whole of the nation; and lastly, because the representation being one, and indivisible, none of the deputies chosen, in whatever order of class, has a right to exercise his sanctions separately from the present Assembly.

The Assembly will not forego the hopes of uniting to itself all the deputies this day absent; it will not cease to call them to fulfill their obligation of concurring at the holding of the States-General. The moment the absent deputies shall present themselves in the course of the session now about to commence, the Assembly declares beforehand, that it will be eager to receive them, and to share with them, after the verification of their powers, the continuance of those important labors which are to procure the regeneration of France.

The National Assembly determines,
That the motives for the present deliberation shall be immediately drawn up, in order to be presented to the King and to the Nation.
---
More History