Flag of Haiti

Haiti
Image Above

Flag description:
two equal horizontal bands of blue (top) and red with a centered white rectangle bearing the coat of arms, which contains a palm tree flanked by flags and two cannons above a scroll bearing the motto L'UNION FAIT LA FORCE (Union Makes Strength); the colors are taken from the French Tricolor and represent the union of blacks and mulattoes

CIA.gov
Here is the middle bit enlarged:

L'Union Fait La Force - Union Makes Strength
Today's Republic of Haiti is a country in the Caribbean.
Haiti's official languages are French and Creole.

Haiti shares the island Hispaniola with the Dominican Republic.
Here is the map:

Haiti 1999
Click to enlarge
And here is another map:

Map of Haiti
Haiti Department of Tourism
History of Haiti
Among the ancient tribes of Haiti we had the Arawak, the Taino, and the Ciboney.

As part of his first voyage,

Christopher Columbus arrived on the island on December 6, 1492. The Taino called it Ayti (Haiti) and it was also known as Quisqueya. But Columbus renamed it La Isla Espaņola, which became Hispaniola.
Columbus set up the first European settlement in the New World and called it La Navidad (Christmas.)
Here is an excerpt from a New York Times article by John Noble Wilford, published August 27, 1985:
On the night before Christmas in 1492, the flagship of Christopher Columbus, the Santa Maria, ran aground on a reef off the North Coast of Hispaniola and was wrecked beyond repair. Accepting the hospitality of an Arawak chief, the men stripped timbers from the abandoned ship and erected a fortified settlement at an Indian town. Columbus named the place La Navidad.

Leaving 39 men there with instructions to trade for gold, Columbus sailed back to Spain on the Nina. He returned 11 months later to find a scene of desolation. Both the European settlement and the surrounding Indian village had been burned. All of his men were dead.

Columbus sailed on, and La Navidad dropped out of sight. The location and fate of this first European settlement in the New World - the point of first extended contact between European and New World cultures - have mystified scholars ever since.

Here you can read the entire article.
And here is La Navidad on a map: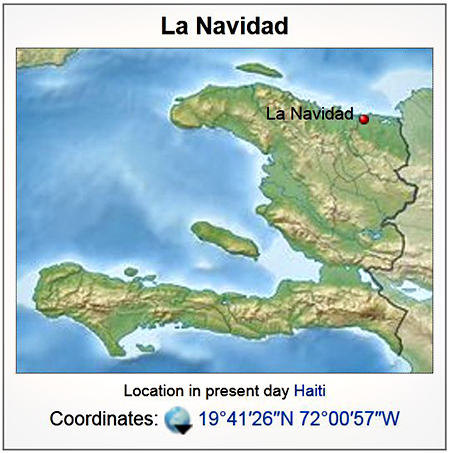 Map Location La Navidad, in today's Haiti
Wiki
Thus, Spain became Haiti's first European sovereign. But they kept themselves mainly on the eastern part of the island (today's Dominican Republic), while French settlements appeared on the western part of the island (today's Haiti).

By the Treaty of Rijswijk, the French became masters over Haiti in 1697. They called it Saint-Domingue.

Haiti's indigenous people disappeared while slaves were brought in from Africa.

But Haiti lit up with a bang in the process.
In 1789, Saint Domingue had an estimated population of 556,000, including roughly 500,000 African slaves, 32,000 European colonists, and 24,000 free mulattoes.
This played an important role in the

Mulatto Revolt.


The

Haitian Revolution, also called the Santo Domingo Slave Revolt, was fought from 1791-1804.

In 1804, Haiti gained independence from the French, thus becoming the first independent black republic.
More History