Quiberon
Quiberon is a peninsula at the south coast of the département Morbihan in the région Bretagne (Brittany), France.
Image Above

The south-eastern tip of Quiberon (left) and la Pointe de Conguel (right).

Office de Tourisme de Quiberon

Located at the tip of the peninsula is the small town of Quiberon.

Map Location Quiberon: France, Bretagne, Morbihan
Ville de Quiberon
Quiberon in 56 BC
The Bay of Quiberon has been a desired territory since olden times.
In his Gallic Wars,

Julius Caesar writes about ancient Brittany,
The influence of this state is by far the most considerable of any of the countries on the whole sea coast, because the Veneti both have a very great number of ships, with which they have been accustomed to sail to Britain, and [thus] excel the rest in their knowledge and experience of nautical affairs; and as only a few ports lie scattered along that stormy and open sea, of which they are in possession, they hold as tributaries almost all those who are accustomed to traffic in that sea.

Here, Julius Caesar brought the rebellion of the Veneti to an end in 56 BC.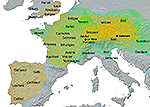 Ancient Europe - Celtic Tribes
Quiberon in 1759
In 1759, the British defeated the French at the naval

Battle of Quiberon Bay. This battle was part of the

Seven Years' War.
Quiberon in 1795
Just a few years later, French republicans clashed with French royalists at the

Battle of Quiberon in 1795.
And here is the map

QUIBERON BAY
Click map to enlarge
More History