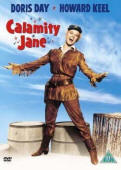 Calamity Jane (1953)

Apparently, Calamity Jane was Doris Day's favorite movie. And rightly so!

All about the movie Calamity Jane here.
You can listen to the movie's opening music as well as much more of DD's lovely chanting on

this site.

DORIS DAY IS
CALAMITY JANE
And here is more about the real life Calamity Jane, whose name was

Martha Jane Cannary, and who might or might not have had a child with

Wild Bill Hickok.
More History