Adhemar of Puy ... - 1098
Bishop Adhémar of Le Puy was also called Adhémar de Monteil and could be equally spelled Adémar, Aimar, or Ademar.

Adhemar of Puy was a French bishop, a

papal legate, and a leader in the

First Crusade.
Image at the Top of this Page
Draped into a big capital C, the deceased Bishop Adhemar Le Puy. Around him a chorus of religious mourning.
It's a C because the paragraph starts with the word Cez, which means these if you speak Old French.
Since he didn't have to breathe anymore, people kept piling things onto Adhemar's chest, as such can be seen a crozier (the cane for bishops) and a chalice, the cup in church.
The book is titled Histoire d'Outremer and was written by William of Tyre or Guillaume de Tyr, if you speak French. William lived from around 1130 until 1186.

This and more exciting literature can be browsed at the British Library, which also holds the copyrights to the above imagery.
And here is the map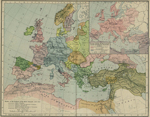 1097 Europe and the Mediterranean Lands
Click map to enlarge
More History