Where Was the Peninsular War Fought?
In the Iberian Peninsula.
Here is the map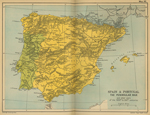 Peninsular War
Click map to enlarge


Who Fought the Peninsular War?
The French
vs.
the British, Spanish, and Portuguese.
The French were led by

Joseph Bonaparte, then King of Spain. Also fighting in this war for France was

Marshal Jourdan.
Who Won the Peninsular War? Who Lost?
The French lost.
Major Battles of the Peninsular War
1809, January 16 -

Battle of La Corunna
1809, July 27-28 - Battle of Talavera
1810, September 27 - Battle of Bucaco
1811, May 5 - Battle of Fuentes de Onoro
1813, June 21 - Battle of Vitoria