Treaty of Turin — March 24, 1860

Here is Turin on a history map: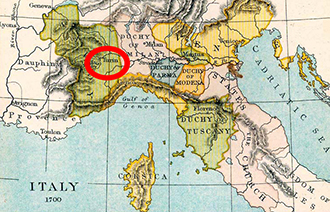 Map Location of Turin
Click map to enlarge
The Treaty of Turin was concluded between France, led by Napoleon III, and Sardinia-Piedmont, led by Victor Emmanuel II.
Savoy and the County of Nice was given to France in exchange for French military support against Austria and general French good-will regarding the formation of a unified Italy under leadership of the Duke of Savoy.
The plebiscite of Savoy on April 22 and 23, 1860, and the plebiscite of Nice on April 15 and 16, 1860, sealed the deal, rigged or not.
Savoy voted 99.3% and Nice voted 99.8% in favor of annexation to France.
But not everybody was happy. Switzerland was against it, seeing herself now surrounded by France in the southwest.
England's policy was that of a balance of power in Europe, thus, England sided with the Swiss.
Garibaldi himself, born in Nice, thought the deal unconstitutional. He channeled his anger into energy and in May 1860, he was on his way to conquer Sicily and Naples.











More History