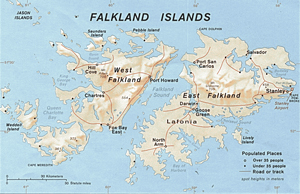 FALKLAND ISLANDS / ISLAS MALVINAS
Click on map to enlarge

Falkland Islands

The Falkland Islands are located in the South Atlantic about 350 miles or 487 kilometers east of the South American mainland.
See red circle on the world map below: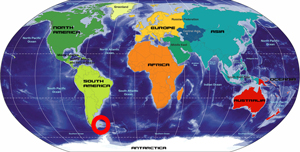 FALKLAND ISLANDS ON THE WORLD MAP
Map: Nations Online Project
What's the Weather Like on the Falkland Islands?
The weather on the islands is sunny during the summer months. The climate during the winter is mild and you might have light snow. All-year temperatures are between 23 and 75 degrees Fahrenheit, or -5 and 24 degrees Celsius.
What All Happened at and Around the Falkland Islands?
Famous British Admiral

Horatio Nelson almost made it to the islands in 1771 when Britain and Spain quarreled over the Islas Malvinas. Britain prepared for war and Nelson boarded the vessel HMS Raisonnable which was then anchored at Sheerness, Kent. However, a wee bit later the relationship between the two countries relaxed and war was avoided. Fourteen-year-old Nelson didn't have to see battle just yet.
In 1982, Argentina and Great Britain engaged in the three-month-long

Falkland War.
More History