Map Location of the Falkland Islands - BBC Map

Falkland Islands War 1982

Who Fought?

Argentina vs. Great Britain

Great Britain, under the iron leadership of Prime Minister Margaret Thatcher, won.


Here's a prophetic Time magazine cover from 1979:


TIME MAGAZINE
MAY 14, 1979

When Was the Falkland Islands War Fought?

The Falklands War was fought from April 2 - June 14, 1982.

The war broke out when Argentina invaded the Falkland Islands on April 2, 1982.

The war ended when Argentina surrendered on June 14, 1982.
How Many People Lost Their Lives?
Argentina: about 750 people
Great Britain: 256 people

Timeline of the Falkland Islands War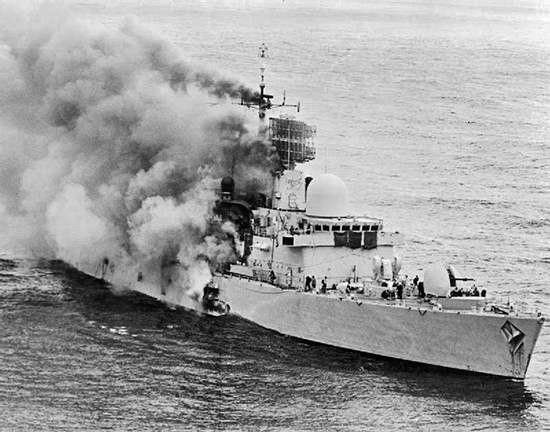 The Destroyer HMS Sheffield on Fire During the Falklands War - May 4, 1982
The ship was struck by an AM39 Exocet missile
fired from an Argentine aircraft six miles away.

HMS Sheffield was the first British warship to be
lost in action since the Second World War.

Twenty members of her crew were killed.

Imperial War Museums, London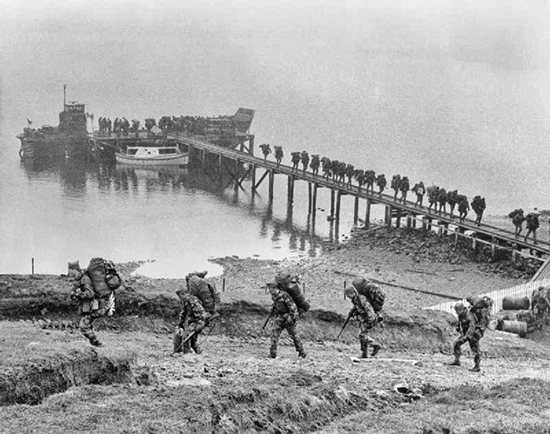 Soldiers of 5 Infantry Brigade disembark at a jetty from one of
HMS Intrepid's landing craft at San Carlos Water in the Falkland Islands
June 1, 1982
Imperial War Museums, London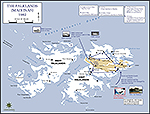 Falkland Islands 1982. Campaign Movements.

This map illustrates the following troop movements:
1. Night of May 14-15, 1982
Raid by SAS

2. May 20-21, 1982
3 Commando BDE lands

3. May 28, 1982
3 Para marches to Stanley

4. May 27 - June 4, 1982
45 Commando marches to Stanley

5. May 27 - June 2, 1982
2 Para takes Goose Green: night of June 2-3 flies to Bluff Cove and Fitzroy

6. June 6-8, 1982
5 Inf BDE (2 Scots Guards and 1 Welsh Guards) lands at Bluff Cove and Fitzroy
Trivia
By the way, Argentina planned to blow up a warship in Gibraltar during the Falklands War, or so the Independent reported on April 04, 2007.
Maps of the Falkland Islands War

Falkland Islands 1982. Distances from air bases. Opening events.
More about the

Falkland Islands here.
November 2012 Update

Sir Rex Hunt 1926-2012

Former governor of the Falklands, Sir Rex Hunt, died on November 11, 2012, aged 86.
Here is the British Prime Minister's (David Cameron) statement on the death of Sir Rex Hunt:
Sir Rex Hunt should be a hero to everyone in Britain. He gave years of dedicated service to this country and to the Falkland Islands.

Faced with invading forces in Port Stanley in April 1982, his courage, resolve and judgement fired the spirit of the Islanders and the British people to stand up to aggression and to defend the rights and freedom of the Islanders.

My thoughts are with his family and friends as they mourn him today.

Source



Margaret and Sir Rex Saying Ooooooooh at the Same Time
The Telegraph, Photo: John Stillwell/PA

And the New York Times published an article on November 17, 2012 — Sir Rex Hunt, Symbol of British Defiance in the Windswept Falklands, Dies at 86.

Here is an excerpt:
At 3:25 a.m. on April 2, Sir Rex declared a state of emergency. He sent his family to a safe house and, according to the British news media, did likewise with two cherished possessions: a picture of Queen Elizabeth II and a bottle of gin.

Before dawn, Argentine commandos landed on the Falklands coast. By about 6 a.m., thousands of Argentines strapped with bandoleers were converging on Stanley.

As a firefight raged outside his official residence, Sir Rex held fast in his study, pistol in hand, vowing to shoot any Argentine who came through the door. (None did.)

But when, about 9 a.m., armored personnel carriers with mounted machine guns rolled into town, Sir Rex, fearing civilian casualties, declared a cease-fire. His men had killed at least one Argentine fighter, possibly more; the precise figure has long been contested. There were no British casualties.

Surrendering, Sir Rex rebuffed the outstretched hand of the Argentine commander, Gen. Osvaldo García.

"It is very ungentlemanly of you to refuse to shake my hand," General García said, in a widely reported exchange.

"It is very uncivilized of you to invade my country," Sir Rex replied.
And here is

the entire article.
If you speak Spanish, you might find this site helpful.
From Argentina's Military Site:

Fuerza Aerea Argentina - Conflicto de Malvinas
More History