Margaret Thatcher 1925-2013
Maggie Thatcher was born Margaret Hilda Roberts. She was Britain's prime minister from 1979-1990. And what a performance the woman gave.

Margaret Thatcher's Family
Margaret's father was Alfred Roberts. Her mother was Beatrice Ethel Stephenson.
On December 13, 1951, Margaret married the good natured man Denis Thatcher.
Margaret Thatcher's Life
Margaret Thatcher did many things that you and I didn't do.
She studied chemistry at Oxford, worked as a research chemist, practiced law, had twins (Mark and Carol), became Great Britainís first woman prime minister, led her country through the

Falkland Island War, almost died in a terrorist attack, shook

Ronald Reagan's hand repeatedly, was called Iron Lady, and was (finally) made Baroness.

Margaret Thatcher in 1935
Margaret Thatcher Quotes
I'm extraordinarily patient provided I get my own way in the end.


As God once said, and I think rightly...


It may be the cock that crows, but it is the hen that lays the eggs.


Being powerful is like being a lady. If you have to tell people you are, you aren't.


Look at a day when you are supremely satisfied at the end. It's not a day when you lounge around doing nothing; it's when you've had everything to do and you've done it.
Margaret Thatcher — The Iron Lady
You would be surprised to know how many women in history have been given the nickname Iron Lady. But then again, maybe you wouldn't and you're addressing the missus in that very fashion as we speak.
How did Ms Thatcher became the Iron Lady?
First she delivered her

Britain Awake speech at the Kensington Town Hall in Chelsea on January 19, 1976. Then, on January 24, 1976, the Red Star, a Soviet Army newspaper, labeled her as Iron Lady.
This term was readily picked up by the press, communist and western alike. Margaret Thatcher and her campaign managers were delighted and gladly accepted the new name that fit like a glove.
Let this

Evening Standard article enlighten you a bit further.
And if you read the article, here is more about

Otto von Bismarck. And here is Bismarck's

Blood and Iron speech to close the circle.
Assassination Attempts on Margaret Thatcher
October 12, 1984, Brighton, England - The following is a brief excerpt from the brilliant book Just 2 Seconds (Gavin de Becker et al.)
Three weeks before Thatcher was to attend the Tory conference, IRA bomber Patrick Magee checked into room 629 at the Grand Hotel.

He spent 24 days tearing down a bathroom wall, loading 100 pounds of gelignite explosive inside the space, rigging a delay timer, and then rebuilding the wall without leaving a trace.

The bomb exploded, killing four, wounding 34, and destroying the hotel. Thatcher was in her room five floors below, but was not injured. A sweep with bomb dogs had missed the bomb because it was on a floor above the conference.

Check out Assassinations in History.
Margaret Thatcher — Public Speaking
On December 18, 1979, Margaret Thatcher gave her

Foreign Policy Speech, also called The West in the World Today Speech. It was delivered before the Foreign Policy Association at the Hilton Hotel in New York.
On October 10, 1980, Margaret Thatcher spoke at the Conservative Party Conference in Brighton and gave her

The Lady's Not for Turning speech.
On May 21, 1988, Margaret Thatcher delivered her

Sermon on the Mound before the General Assembly of the Church of Scotland, in Edinburgh. Her speech was so nicknamed by the press because the event took place at the Assembly Hall of the Church of Scotland, which is located on a hill named the Mound in the center of Edinburgh.
Ronald Reagan died on June 5, 2004. On June 11, 2004, Margaret Thatcher was present at his funeral, and via video tape, due to health reasons, delivered her

Tribute to Ronald Reagan at the National Cathedral in Washington.
Margaret Thatcher's Team
Margaret Thatcher's right hand was

Geoffrey Howe. When Howe left the ship and resigned in 1990, it went downhill fast for the Lady.
Go here to read

Howe's Resignation Speech.
Margaret Thatcher's Death
On April 8, 2013, a 87-year-old Margaret Thatcher died of a stroke at London's Ritz Hotel.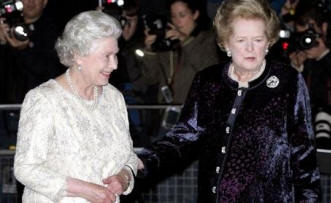 Two Sturdy Girls: Margaret Thatcher and the Queen in 2010
More History