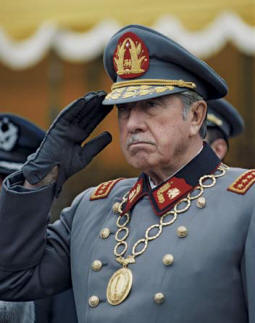 Augusto Pinochet 1915 - 2006
Image above:

Augusto Pinochet

Diego Goldberg—Sygma/Corbis
Augusto Pinochet Ugarte, born November 25, 1915, was the man who overthrew Chile's President Salvador Allende and ruled the country himself from 1974 until 1990.
President Allende had appointed Augusto Pinochet army commander in chief only 18 days before the coup, which took place on September 11, 1973, and became the socialist president's last day.
Allende, by the way was twice exhumed, in 1990 and 2011. Cause of death: suicide.
Back to Pinochet.
Thanks to an old bodyguard trick, Pinochet survived a solid assassination attempt on September 8, 1986.
Pinochet was riding in the fourth car in a five-car motorcade in Santiago, Chile, instead of riding in the second car, which is normally the position of the VIP's car.
Sure enough, at the next ambush a rocket blew up the second car, killing all bodyguards inside. Pinochet survived unharmed.

Check out Assassinations in History.
In 1998, Pinochet made the mistake of leaving his country to visit the United Kingdom.
Spain demanded extradition because several Spanish citizens, who had previous encounters with the man, complained that his torture chambers weren't altogether up to international human rights standards.
On October 16, 1998, the UK responded by arresting Pinochet, then age 82 and still a Chilean senator with a diplomatic passport, at the London Bridge hospital, where he recovered from back surgery.
Little by little various other countries came forward with accusations against Chile's dictator. What did the British do?
Finding themselves between several chairs, they decided via court rule that Augusto Pinochet was not in a well enough physical condition for a trial and sent him back home. The year? 2000.
The people of Chile brought Pinochet to court. Due to skilled weaseling, Pinochet dodged many legal bullets until his death on December 10, 2006, at a Santiago military hospital. A week prior he had had a heart attack.
Here is a map of Chile
And here is more on

Human Rights in History.
More History