Frederick II 1194-1250
Image Above

Frederick and his falcon Tucker


Frederick II got excommunicated twice: once in 1227 and then again in 1239.

His portfolio was impressive:
King of Sicily, Duke of Swabia, German King, Holy Roman emperor, and participant in the Sixth

Crusade, which brought him another title, King of Jerusalem.
Frederick's Family
Fred's grandfather was the famous

Frederick I Barbarossa.
His mother was Empress Constance.
In 1209, Fred married Constance of Aragon. Constance died and Fred moved on. He married Isabella of Brienne in 1225, who died in 1228. Fred married again, this time Isabella of England. The year: 1235.
Frederick's Life
The popes wanted Frederick to fight in the crusades. But Frederick hesitated because he had quite some battles of his own to fight at home.
Finally, Pope Gregory IX had had it and excommunicated Fred for not going on Crusade.
Frederick went on Crusade in 1228 and managed to recapture Jerusalem. It was a big victory.

And here is the map of Frederick's crusade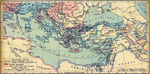 CRUSADE OF FREDERICK II
Click map to enlarge

In 1230, the pope annulled Frederick's excommunication. In 1239, the pope issued another one.
Frederick had two sons of interest: Henry VII and Conrad IV.
More History