Pol Pot 1925-1998
Image above:

Pol Pot

Click image to enlarge.
Pol Pot (not Paul Pot) was the alias of Saloth Sar.
Pol Pot was a mass murderer. When he came to power in 1975, Cambodia had an approx. population of 7.3 million. Four years later, by 1979, Pol Pot had managed to kill about 2 million of his fellow countrymen.
In comparison,

Adolf Hitler killed 12 million people who, for one reason or another, didn't fit into his plans. Of these 12 million, 6 million were Jews and 2.5 million were Soviet prisoners of war.

Joseph Stalin's victims were also counted in tens of millions.
So yes, Pol was up there in the big killer league.
What did he fight for or against?
Pol Pot was leader of the radical communist movement Khmer Rouge, which is French and means Red Khmer. Why a French word? Because the French were running the country from 1863 to 1941.
The Khmer Rouge waged

guerrilla warfare, overthrew the government of Lon Nol in 1975 and established their own Democratic Kampuchea.
What's a Khmer?
A native Cambodian. It is also the name of the official Cambodian language.
POL POT'S BRIEF BIOGRAPHY
1930 Education in Phnom Penh, carpenter

1949 Studies radio electronics in Paris

1953 Back to Phnom Penh

1956 - 1963 Education at a private school in Phnom Penh

1963 Leaves Phnom Penh as police suspect his communist activities

1975 - 1979 Dictator

1979 Vietnamese forces invade Cambodia, Pol continues guerrilla war

1997 under house arrest

1998 death
At the end of Pol Pot's life, the map of his country looked like this: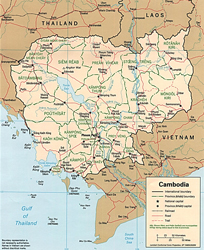 MAP OF CAMBODIA 1997
Click map to enlarge
POL POT TRIVIA
In 2003, Pol's wife Khieu Ponnary died at the age of 83. She had met Pol in Paris in 1951. In 1956 they had married.
June 2007 - Khmer Rouge on trial. Judges and international human rights officials come together in Cambodia's capital Phnom Penh, ready to start the Khmer Rouge trials but can't agree on the rules for the procedure.
More about

Human Rights in History
More History