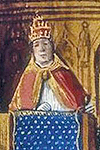 Pope Urban II 1035-1099
Odo of Châtillon-sur-Marne was Pope Urban II from 1088 to 1099.
As the name suggests, Odo was born at Châtillon-sur-Marne, in France. The French called him Odon.
Pope Urban II's biggest feat was his speech at the Council of Clermont in 1095. This speech sparked the

First Crusade and is therefore perhaps the oration that had the biggest impact on history.
Several versions of Urban's sermon survived.
One version was compiled by the clergyman Fulcher, who was born in Chartres, France. Fulcher of Chartres was present at the Council of Clermont. In 1099, he went to Jerusalem, where he died in 1127.
See also the

List of all Roman Catholic Popes.
More History