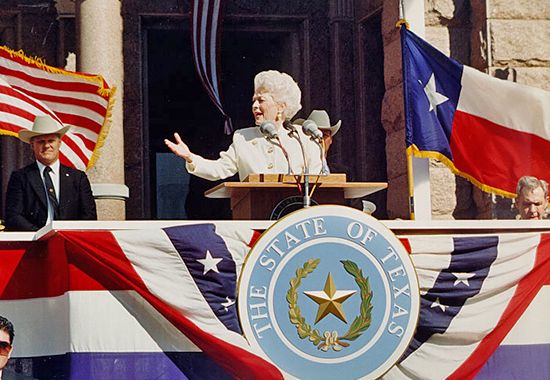 Texas Governor Ann Richards in 1991
Ann Richards 1933-2006
Image Above

Texas Governor Ann Richards on Inauguration Day, January 15, 1991

Texas State Library and Archives


Ann Richards' Family
Her parents were Cecil and Ona Willis.
In 1953, Ann Willis married David Richards (later divorced).
The couple had four children: Cecile, Dan, Clark, and Ellen.
Brief Biography
Ann Richards was born Dorothy Ann Willis, on September 1, 1933, at Lacy Lakeview, Waco, Texas.
1946 - 1950 Waco High School
1950 - 1954 Baylor University, Waco (bachelor's degree)
1953 married David Richards
School teacher at Fulmore Junior High at Austin, Texas (social studies, history)
Moved to Washington D.C.
Moved to Dallas
1969 moved back to Austin
1976 - 1982 Travis County Commissioner (two terms)
Divorce from David Richards. Treatment for alcoholism.
In 1982, Ann Richards was elected Texas treasurer. This made her the first woman to win a state office in 50 years. Back in the days, in 1932, it was Miriam "Ma" Ferguson who had her hands full with the Ku Klux Klan and new liquor legislation.

Miriam Ferguson lived 1875-1961
She was the first woman governor of Texas
and the second woman governor in U.S. history.

Back to Ann Richards.
1985 - Honored by

Texas Women's Hall of Fame
July 18, 1988 -

Keynote address at the National Democratic Convention at Atlanta, Georgia.
Here are her opening words:

I am delighted to be here with you this evening, because after listening to George Bush all these years, I figured you needed to know what a real Texas accent sounds like.

Twelve years ago Barbara Jordan, another Texas woman, Barbara made the keynote address to this convention, and two women in 160 years is about par for the course.

And here is more about Barbara Jordan.
1991 - 1995 - Governor of Texas
Ann Richards was the forty-fifth Governor of Texas from January 15, 1991 until January 17, 1995.

Her predecessor was William P. Clements, ( in office January 20, 1987 - January 15, 1991).


The Texas State Library tells us more:

The first woman to be elected Texas governor on her own merits, Governor Richards appointed more women, blacks, and Hispanics to office than any previous administration.

She worked with the legislature to achieve insurance reform, new ethics rules for lobbyists, better hazardous waste management, and restructuring of public school financing.

Other initiatives included job creation, site-based management for public schools, increased prison space, and governmental efficiency.


In 1994, Richards ran for reelection but lost to George W. Bush (in office January 17, 1995 - December 21, 2000).


After retiring from politics, Ann Richards worked as consultant.

In 2003, she wrote the book I'm Not Slowing Down: Winning My Battle With Osteoporosis.
March 2006 - diagnosed with esophageal cancer

September 13, 2006 - Death at Austin, Texas
More History