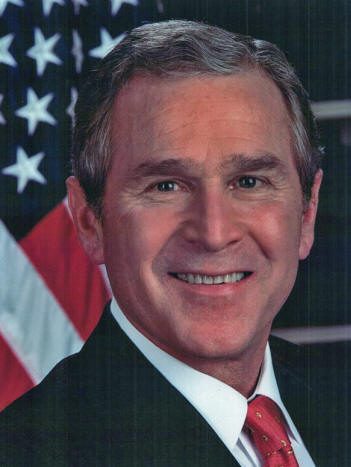 George W. Bush (Born 1946)

George Walker Bush defeated

Ann Richards in the election for Governor of Texas and served as such from January 17, 1995 - December 21, 2000.
He became the 43rd president of the U.S. from 2001 until 2009.
His father is

George H.W. Bush. His mother is

Barbara Bush.
When 9/11 shocked the nation, George Bush issued his

Statement to the Nation the very same day at 8.30 PM.
On September 20, 2001, Bush addressed Congress and the American People with his

Freedom at War With Fear speech.

9/11 From Space
Photo taken by the ISS Expedition Three Crew, 250 miles away.
NASA

Here is Expedition Three Commander Frank Culbertson's letter about the Sept. 11 terrorist attacks.
George Bush won a second term at the 2004 elections against Democrat

John Kerry.
See also the

American Timeline.
More History