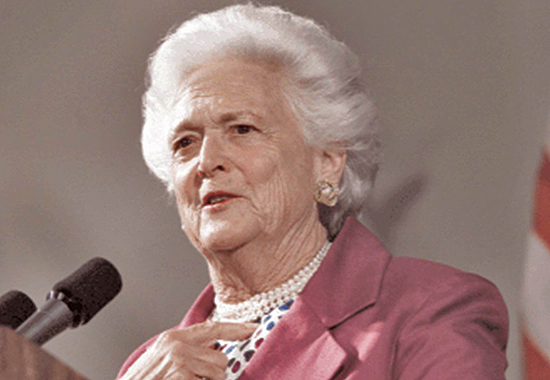 Barbara Bush (born 1925)
Image above:

Former First Lady Barbara Bush

cia.gov
Barbara Bush was born Barbara Pierce in Rye, New York.
She is distantly related to Franklin Pierce, who was the 14th U.S. President from 1853 to 1857.
On January 6, 1945, Barbara Pierce married

George H.W. Bush.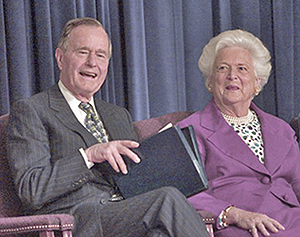 George H.W. and Barbara Bush
cia.gov
The couple had six children:
On July 6, 1946,

George W. Bush was born.
On December 20, 1949, Pauline Robinson (Robin) Bush, was born. Robin died from leukemia on October 11, 1953.
John Ellis (Jeb) Bush was born on February 2, 1953.
Neil Mallon Bush was born January 22, 1955.
Marvin Pierce Bush was born December 22, 1956.
Dorothy (Doro) Bush was born August 18, 1959.
On June 1, 1990, Barbara Bush delivered her

Commencement Address to the Wellesley College Class of 1990, where she was only the second choice speaker. First choice would have been Alice Walker. Immediately after inviting Barbara, it was much discussed whether or not the First Lady was qualified to give the Commencement Address, because her fame came mostly from her husband's presidency, and not from her own independently successful career.
Barbara Bush was a good sport, took with her Raisa Gorbachev and, with a solid little speech, she saved the day.
On August 19, 1992, Barbara Bush delivered her Address to the Republican National Convention.
And here is the link to the

Barbara Bush Foundation for Family Literacy.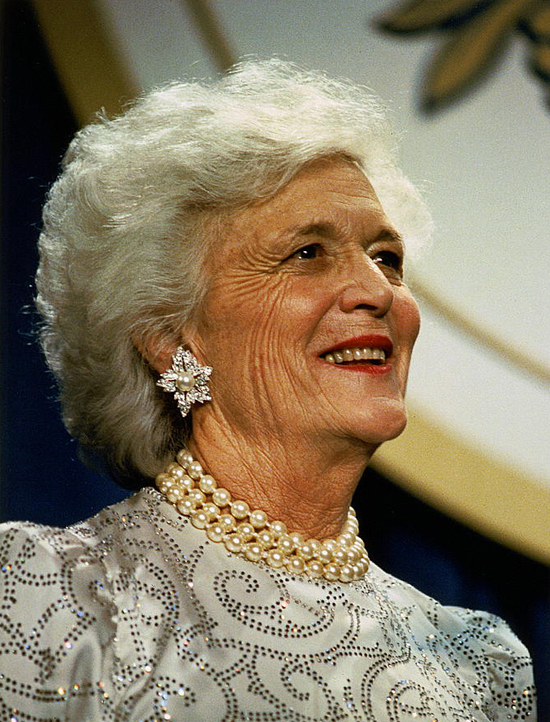 BARBARA BUSH
Library of Congress

More History