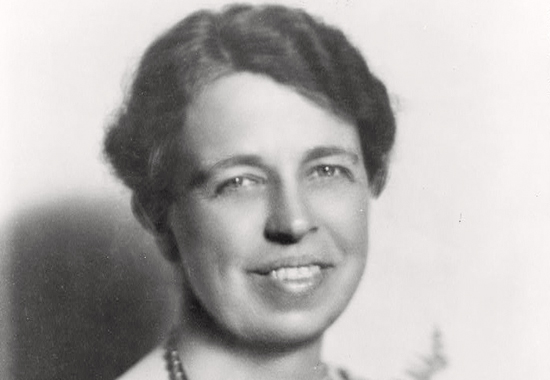 Eleanor Roosevelt 1884-1962
Who Was Eleanor Roosevelt?
Anna Eleanor Roosevelt was allergic to social injustice.
Image Above

Mrs. Franklin Delano Roosevelt, portrait, c. July 20, 1933

Library of Congress


She was also married to

Franklin Delano Roosevelt, which made her American's First Lady from 1933 until 1945.
Eleanor Roosevelt's parents were Elliott Roosevelt and Anna Hall Roosevelt.
And here is the

Roosevelt family tree.

Eleanor Roosevelt
Eleanor was a lady who possessed the real beauty, the inner kind, the rare kind.
And we quote

Shirley Chisholm who noticed that, "the moment she opened her mouth, there was a warmth, it was beautiful."
Here is the interview.

Interview: Shirley Chisholm on Eleanor Roosevelt
Eleanor Roosevelt Against Social Injustice
In 1939, African-American opera singer Marian Anderson was refused to rent Constitution Hall at Washington DC for performance purposes.
Eleanor Roosevelt straightened out some narrow minds and helped prepare a concert which took place on Easter Sunday, April 9, 1939 at Lincoln Memorial with an audience of 75,000 plus national radio broadcast.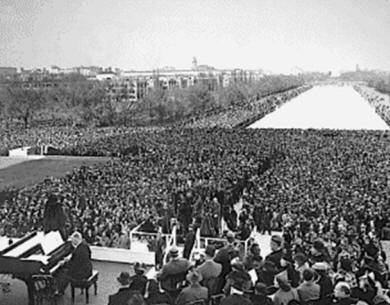 Marian Anderson performing at the Lincoln Memorial 1939
National Archives


In 1948, Eleanor Roosevelt visited Paris and delivered her speech on

The Struggle for Human Rights. This speech is also known as The Struggles for the Rights of Man. It was delivered on September 28, 1948 at the Sorbonne.
By the way, Eleanor Roosevelt delivered this speech in French.
(Thanks, Holly, for pointing this out.)

In 1960, Eleanor Roosevelt received the Gandhi Peace Award.
And here is more about

Human Rights in History.
More History