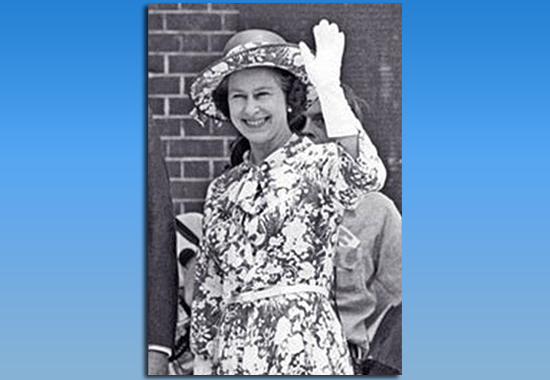 Elizabeth II — Born 1926
Image above:

Queen Elizabeth II.

Photo courtesy Library of Virginia.


Elizabeth Alexandra Mary was born at 17 Bruton Street in Mayfair, London, England.
Elizabeth's only sibling was her sister Margaret Rose, who became the Countess of Snowden. Princess Margaret died in 2002.
On November 20, 1947, Elizabeth married Philip Mountbatten, who, until February 28, 1947, had been Prince Philip of Greece and Denmark, but then decided to become British full-time, and thus gave up his place in the queue for the thrones of Greece and Denmark.
Elizabeth II's Children
On November 14, 1948, Elizabeth's first child was born, Charles Philip Arthur George.
On August 15, 1950, Anne Elizabeth Alice Louise was born.
On March 10, 1964, Edward Anthony Richard Louis was born.
Elizabeth II's Coronation
Thanks to her

uncle Edward (VIII)'s abdication, Elizabeth's father, Albert Frederick Arthur George, became King George VI.
On February 6, 1952, Elizabeth's father, King George VI, died. This meant that on the same day, February 6, 1952, Elizabeth became Elizabeth II, Queen of the United Kingdom of Great Britain and Northern Island. Furthermore, she became the official Head of the Commonwealth as well as the Defender of the Faith, and the whole thing By the Grace of God.
The coronation ceremony took place in Westminster Abbey on June 2, 1953, and Elizabeth delivered her

Coronation Speech.
More importantly, she will probably outlast every single one of us, aiming to beat the record age of her mother, Elizabeth Angela Marguerite Bowes-Lyon, who was the Queen Mother, the Duchess of York, and lived from 1900 to 2002.
Back to Elizabeth II.
On October 21, 1957, the Queen visited the United Nations. Here you can read her

Address to the UN General Assembly.
On July 6, 2010, the Queen returned. Here is her

2010 Address to the UN General Assembly.
Here she goes

Queen Elizabeth II speaks to the UN General Assembly
More History