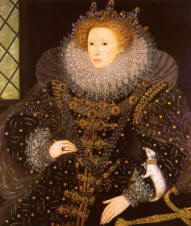 Elizabeth I 1533-1603
Image above:

Elizabeth I, Queen of England. Note her pretty hands.


Elizabeth I was also called Good Queen Bess. Another nickname was The Virgin Queen. She was Queen of England from 1558 to 1603.

As one of the most captivating rulers in history, Elizabeth came to power at a time when women were expected not to participate in public life.

Much like her father,

Henry VIII, she had great charisma. She also knew how to operate very economically with the small budget she had at the beginning of her reign.

Elizabeth was courageous, intelligent, and insightful to human nature. She carefully navigated through the minefields of politics and was a lively person in private. She assumed the responsibility of her office and received the respect and loyalty of her subjects.
Elizabeth was famous for her speeches, e.g. her

Golden Speech of 1601.
Elizabeth I — Family
Lizzy's father was Henry VIII. Her mother was

Anne Boleyn.
Her half-sister, Mary I, came from Henry's first wife

Catherine of Aragon. Half-brother Edward VI was the son of Henry's third wife

Jane Seymour.
Here is more on the

Tudor family.
Elizabeth I — Youth
Elizabeth's birth was not much celebrated because her father wanted a male heir. When Elizabeth was two years of age, her mother, Anne Boleyn who was Henry's second wife, was executed.

Elizabeth received a royal education. Her studies included Greek, Latin, French, Italian, history, rhetoric, philosophy, and theology. The tutors were impressed by her intellect and wit.
Elizabeth I — Prison
Elizabeth's half-sister Mary I was a ruthless Catholic who persecuted Protestants. During Mary's reign a rebellion was put down and Elizabeth became one of the suspects. She was imprisoned in the Tower of London for two months, but no evidence was found of her involvement.
Elizabeth I — Strategy
Elizabeth learned from an early age when to keep her thoughts concealed, and how to make her opinions known in a diplomatic way. Later she turned the disadvantage of being a woman ruler into an advantage and promoted a regime motivated by sincere love of her subjects. She was genuinely respected.
Elizabeth I — Succession
Her successor was the son of

Mary Queen of Scots, James VI of Scotland, who became

James I of England and thus the Stuarts succeeded to the throne of England.
Here is more on the

Stuart family.
Elizabeth I — Remarkable
Much to the despair of many people, Elizabeth decided to stay single. Reasons for this decision are not known. Most likely, she just did not wish to compromise her power. This, however, didn't stop her from conducting marriage "negotiations" as part of political strategies.

LIZZY AROUND AGE 13. SHE WAS
ALWAYS VERY PROUD OF HER HANDS.


WAR WITH SPAIN
Encouraged by the pope, Catholic Spain, led by

Philip II, launched her fleet of 130 ships, the

Invincible Armada, in an attempt to defeat Protestant England.
To prepare her army, Elizabeth went to downtown Tilbury and, addressing her troops, she delivered her

Spanish Armada Speech.

Mistakenly, the planned land reinforcement, Spanish soldiers who fought in the Spanish Netherlands, did not arrive in time to join the armada. The exposed fleet was driven to the north and hit by vicious storms.

The Spanish Armada had to retreat via Ireland's west coast. During this withdrawal, most ships and their crews were lost.

In all, 63 Spanish ships were lost, only 4 in battle.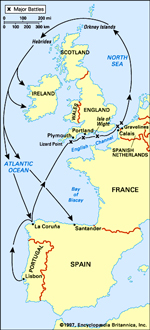 1588 Route of the Spanish Armada

1588 Routes of the Spanish Armada (USMA)



Elizabeth I — Short Biography
1533 September 7 - Birth at Greenwich, England

1547 Death of Henry VIII; Edward VI becomes king

1553 Edward VI dies of tuberculosis; Mary becomes Queen of England

1554 Imprisonment in Tower of London

1558 November 17 - Queen of England

1588 Defeat of the Spanish Armada

1603 March 24 - Death at Richmond, Surrey, England


Here is

Elizabeth I's timeline.

And here are the maps:

Map of Western Europe in the Time of Elizabeth
Click map to enlarge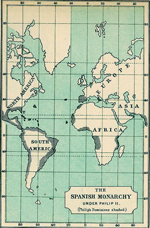 SPANISH EMPIRE UNDER PHILIP II
Click map to enlarge.

1560 Europe - Progress of the Reformation
More History