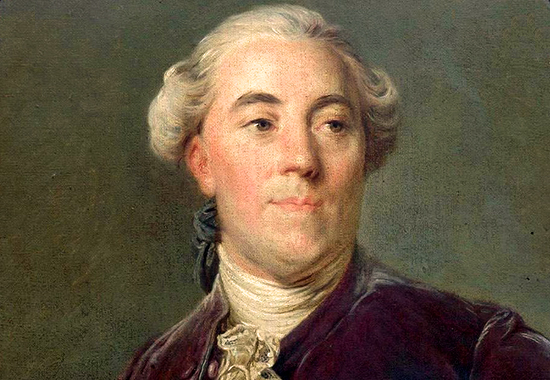 Jacques Necker 1732-1804
Image Above

Jacques Necker

Detail from the painting by J.S. Duplessis

© Réunion des musées nationaux


The son of a banker, Jacques Necker was born in Geneva.
In 1764, Necker married Suzanne Curchod.
In 1766, their daughter Anne-Louise-Germaine Necker, who would become the Baroness de Staël-Holstein, was born.
On June 29, 1777, Necker was made

Louis XVI's directeur général des finances, or finance minister.
Normally, he would have been made contrôleur général des finances, but Necker was a foreign and a Protestant at that.
For a complete list of all comptrollers-general see

French finance ministers under the ancien regime
In January 1781, and with the King's permission, Necker published his

Compte rendu au Roi (Report to the King).
In it, Necker camouflaged a deficit of 46,000,000 livres as a surplus of 10,000,000 livres, which enabled his ministry to receive new loans.
The Queen,

Marie-Antoinette, couldn't stand the man. But she was not Necker's only critic. Necker had to resign on May 19, 1781. He retired to his humble château at Saint-Ouen, just outside Paris.
In 1783, the new finance minister was

de Calonne, with whom Necker had some disagreements.
Necker was recalled to his desk on August 25, 1788, just in time to double the

Third Estate.
When the King fired Necker on July 11, 1789, the French took it personally and geared up for the

French Revolution.
On July 14, 1789, the

Bastille fell.
On July 26, 1789, Necker had his job back.
Check this event in the

timeline of the French Revolution.
Necker resigned for good on September 18, 1790.
See also

Taxation in Pre-Revolutionary France.
More History