Joachim von Ribbentrop 1893-1946
Image above:

Joachim von Ribbentrop

Photograph

DHM, Berlin


Joachim von Ribbentrop was Nazi Germany's foreign minister from 1933 until 1945.
In this capacity, Ribbentrop was very effective.

Nut Adolf made him his expert on foreign affairs.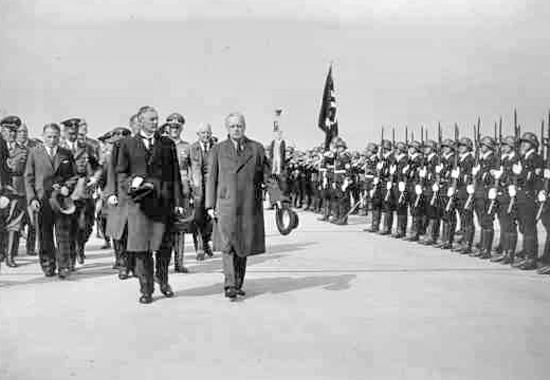 Ribbentrop and Chamberlain meet at Cologne, September 22, 1938
DHM Berlin
Ribbentrop was a very busy and very important man until the Nazis were done talking with other nations and just shot at them. There was not much demand for Ribbentrop's diplomatic skills after the outbreak of

World War II.
Ribbentrop was captured on June 14, 1945, and tried at the Nurnberg Trials. He was hanged on October 16, 1946.
More History