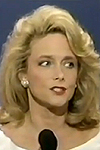 Mary Fisher (born 1948)
Mary Fisher was born Lizabeth Davis Frehling on April 6, 1948, at Louisville.
She contracted the human immunodeficiency virus (HIV) from her husband, who has since died.
On August 19, 1992, Mary Fisher delivered her memorable

A Whisper of AIDS speech at the Republican National Convention in Houston, Texas.
Here is

Mary Fisher's web site.
And here is the

web site of UNAIDS, the joint United Nations program on HIV / AIDS, endorsing HIV prevention, treatment, care and support.
You could start by browsing their

Fast Facts About HIV.

Here is an excerpt:
Are mosquito bites a risk of infection with HIV?

HIV is not spread by mosquitoes or other biting insects. Even if the virus enters a mosquito or another sucking or biting insect, it cannot reproduce in insects. Since the
insect cannot be infected with HIV, it cannot transmit HIV to the next human it feeds on or bites.
More History