Niels Bohr 1885-1962
Niels Bohr was a Danish physicist.
His father, Christian, was professor of physiology at the University of Copenhagen. Niels was the first to apply the quantum theory to atomic structure.
Apply, not develop.
Developed it was by

Max Planck and

Albert Einstein.

Niels Bohr said that he found discussions with Albert Einstein very stimulating.

What else? Niels Bohr went to England for some months in 1911/1912. After returning to Copenhagen, he became Professor and Director of the Institute for Theoretical Physics.

What is the quantum theory all about? Excellent

question!
Anyway, in 1922 Niels Bohr's work was worth the

Nobel Prize for Physics.
Together with his son Aage, who became a physicist as well, Niels Bohr worked in 1939/1940 on the development of the atomic bomb in Los Alamos, New Mexico, USA. The code name was

Manhattan Project.
The threat of nuclear weaponry had Niels Bohr increasingly worried.
Because of

World War II, and because Bohr's mother was Jewish, Niels Bohr and his family first fled to Sweden, then to England.
Son Aage, by the way, won the Nobel Prize for Physics in 1975. Unbelievably smart genes in this family, one can't help but wonder.
And

this is the link to Cryos, international sperm bank with mostly Scandinavian donors. Do your wife a favor.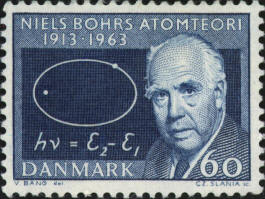 NIELS BOHR ON A DANISH STAMP, 1963
More History