Niki de Saint Phalle 1930-2002


French artist Catherine Marie-Agnès Fal de Saint Phalle, better known as Niki de Saint Phalle, became famous for shooting at her art with darts or guns.
Equally famous are her Nanas, colorful sculptures in female shape.

NIKI SHOOTING AT HER ARTWORK
She got herself dressed up a bit here because she was posing for a movie.
Niki was also writer and director of the 1976 French movie Un rêve plus long que la nuit.
Before launching her career as an artist, Niki was modeling for Vogue, Life, Harper's Bazaar, Elle, and other French and American magazines.
What brought about the change of direction? A nervous breakdown in 1953. Niki de Saint Phalle started painting while recuperating and loved her output.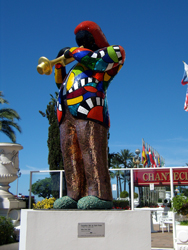 NIKI DE SAINT PHALLE'S MILES DAVIS
IN FRONT OF NEGRESCO HOTEL, NICE
Click to enlarge
More History