Tutankhamen 14th Century BC
Image Above

Tuthankamen's burial mask.

Egyptian Museum in Cairo

Bjørn Christian Tørrissen / Wiki
The man was originally named Tutankhaten. He later changed his name to Tutankhamen, or Tutankhamun.

Tutankhamen was king of Egypt from 1333 - 1323 BC. He died when he was only 19 years old.
London's Tutankhamen exhibition in November 2007 got Cairo all excited and the Egyptians decided to get the mask off of Tutankhamun's face and put his mummified body on display in Luxor. Long time no see.

Howard Carter was the archaeologist who found Tutankhamen's tomb.
The tomb was found in the Valley of the Kings in Luxor.
And here is the map: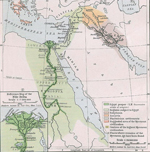 EGYPT ABOUT 1450 BC
Click map to enlarge

And here is the entire

list of kings of Egypt.
More History