In AD 213 and the following years, the Alemanni fought the Romans with some success.

Around the year 260, the Alemanni managed to breach the Roman limes in Germany and pushed the border of the

Roman Empire back to the Rhine River and the Danube River.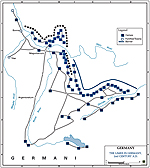 Map of the Limes in Germany 2nd Century AD
In AD 496, Frankish King

Clovis added the Alemanni to his long list of subjects.

The Spanish and the French word for Germany (Alemania and Allemagne) derives from the Alemanni.