Battle of Gergovia — 52 BC
The Battle of Gergovia was part of the

Gallic Wars.

Image Above

Reconstruction and animation of the Battle of Gergovia presented by the French.

Go here for the entire and utterly awesome presentation. (Speak French, it will help. If you don't, it's still fantastic.)

Who Fought the Battle of Gergovia?

Gaius Julius Caesar and the Romans

vs.

Vercingetorix and various tribes

Who Won the Battle of Gergovia? Who Lost?

The Romans lost the battle due to Caesar's strategic withdrawal. Almost 700 Roman soldiers and 46 Roman centurions were killed.

But Vercingetorix and his team didn't have long to celebrate. Alesia was just around the corner.
In More Detail
The Battle of Gergovia is also called the Siege of Gergovia.
And rightly so, because Vercingetorix and his men were defending the fortified city of Gergovia that was located on a flat hill top. (See graphic at the top of this page.)
Here is Gergovia on a map:

Gergovia, Gaul - Map Location
Click map to enlarge


Julius Caesar eventually abandoned the siege. It was his first outright defeat in the Gallic Wars.
What went wrong?

In his own account of this battle Caesar blamed it on his soldiers, for which, by the way, they received a good scolding.
Read

Caesar's account of this battle. Scroll down to chapter 52 for the official rebuke.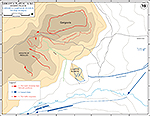 52 BC Siege of Gergovia - Part One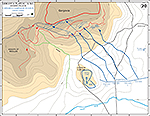 52 BC Siege of Gergovia - Part Two

52 BC Siege of Gergovia - Part Three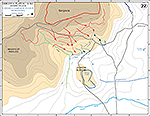 52 BC Siege of Gergovia - Part Four
More History