Vercingetorix ... - 46 BC
Vercingetorix was the leader of the Arverni and a huge pebble in JC's sandal.
In 52 BC, Vercingetorix defeated Gaius Julius Caesar in the Battle of Gergovia.

Later that year, at the Siege of Alesia, Julius returned the favor and defeated the Gauls.

Vercingetorix gave himself up, was taken prisoner, and became part of the exhibition in Julius Caesar's triumphal procession in Rome.

Six years later, in his dungeon at Rome, Vercingetorix was executed.

Image at the Top of this Page
Statue of Vercingetorix at Alise-Sainte-Reine, France
Original photograph: Siren-Com / Wiki

Napoleon III paid for this statue with his personal credit card. The artist was Aimé Millet. Scroll down to view the entire monument.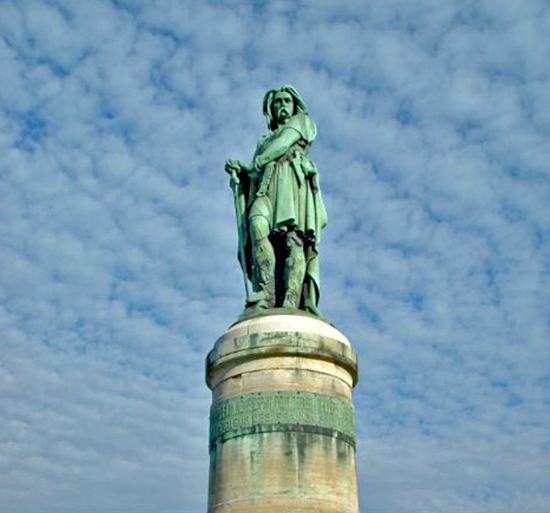 Vercingetorix Monument, Alesia
Philippe Mathieu / MuséoParc Alésia

Vercingetorix Returns to Alesia in 1865
MuséoParc Alésia
Vercingetorix' Background
Vercingetorix was of noble blood. However, his father had been killed while attempting to make himself king.
By the time Vercingetorix had become a seasoned warrior, the political situation had changed significantly. Rome was now the common enemy. Not only did the Averni make Vercingetorix their king, the chieftains of a confederation of Gallic tribes voted him commander-in-chief.
And here are the maps

54 BC Outbreak of the Gallic Revolt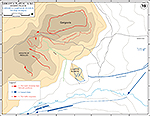 52 BC Siege of Gergovia - Part One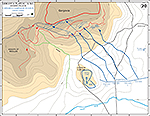 52 BC Siege of Gergovia - Part Two

52 BC Siege of Gergovia - Part Three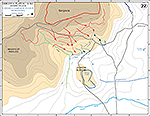 52 BC Siege of Gergovia - Part Four

52 BC Gaul: From Gergovia to Alesia
More History