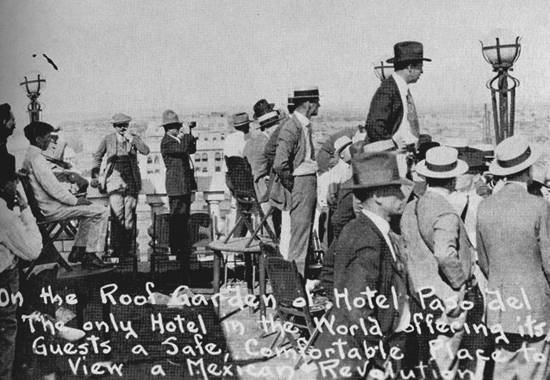 BATTLE OF JUÁREZ
May 8-11, 1911

Battleground Border Town Ciudad Juárez

This Battle of Juárez is also called the First Battle of Juárez and was part of the

Mexican Revolution.
As stated on the picture above, people in El Paso, Texas, enjoyed their ringside seats just across the Rio Grande - picnic and all.

... which was, according to Oscar J. Martínez, the reason why El Pasoans were hoping for a reenactment of the spectacle the next year.

However, "they expressed disappointment when Pascual Orozco took Juárez in a bloodless coup on February 27, 1912, labeling the event a "big flop."

Back to the First Battle of Juárez.

Who fought the First Battle of Juárez?

The revolutionaries, more or less led by Francisco I. Madero, fought against the Federal troops of president Porfirio Diaz.

The feds were led by General Juan J. Navarro.

Fighting alongside the federals were citizen volunteers.

Fighting alongside Madero was Pascual Orozco, José de la Luz Blanco, Ben J. Viljoen, Francisco "Pancho" Villa, and Giuseppe Garibaldi Jr, who was also called José or Peppino Garibaldi. He was the grandson of famous Giuseppe Garibaldi.



EXPERIENCED BOER OFFICER: GENERAL BEN JOHANNIS VILJOEN
Library of Congress (?)
Who won the First Battle of Juárez? Who lost?
The feds lost. The revolutionaries won and captured Juárez.


Battle of Juárez - Insurrectos on irrigation ditch
Library of Congress
Timeline of the Battle of Juárez - Sunday, May 7, 1911
In the morning, Madero tells his troops to get ready to march at 4 PM. But later that afternoon it is decided to attack Juárez at midnight instead.
A message from Mexico City reaches Madero. Apparently, President Diaz had publicly declared that he was willing to resign from office. Madero immediately decides to abandon the attack on Juárez.
Timeline of the Battle of Juárez - Monday, May 8, 1911
Madero is back on the horn with the Diaz representatives Oscar Braniff, Toribio Esquivel Obregon, and Francisco S. Carbajal. They agree to a ceasefire that would last until 4 PM today, and schedule a meeting at 4 PM to discuss further actions.
11 AM: Out of the blue, shooting starts. Madero doesn't have a clue what is going on and calls Navarro. Navarro says the rebels have commenced an attacked and have already taken the outer trenches along the right bank of the river. Madero tells Navarro that this was not according to plan and that he will tell his men to withdraw. Navarro agrees to order his men to cease fire so that Madero's men can retreat.
1 PM: Madero orders his trigger happy men to cease fire. They tell him to get lost and advance even further, taking advantage of Navarro's cease fire order. Navarro resumes the fight.
At "Peace Grove," approximately a mile and a half up the river from Juárez, Madero addresses the part of his army that is currently not involved in the battle, including Villa, Blanco, and Orozco. He tells them to sit tight until he orders otherwise.
Shortly after Madero's little speech a large part of the audience disappears to join the battle.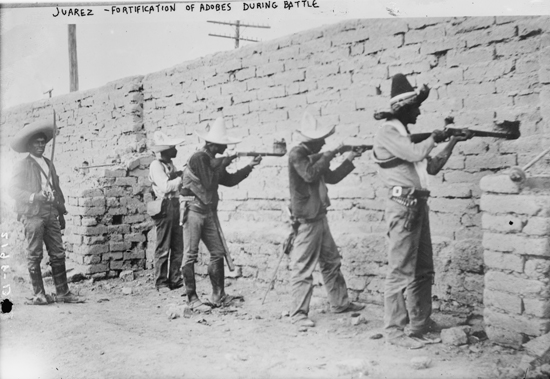 Juárez - FORTIFICATION OF ADOBES DURING BATTLE
Library of Congress

6.30 PM: Madero and Navarro are on the phone again. Madero explains his predicament. Navarro agrees to cease fire once more to give Madero's men a second chance to retreat. It didn't work. The second Navarro ceased fire, Madero's men advanced further. Navarro resumed the fight.
9.00 PM: Madero's officers inform him that they will not retreat full stop. Especially now that they have managed to place themselves in such strategically advantageous positions. The decision has been made for Madero. Madero picks up the phone, calls Navarro, and tells him to brace himself as he intends to attack him with all he got.
Water and power was cut off on Monday night, meaning the federals would be without water on Tuesday morning.

Timeline of the Battle of Juárez - Tuesday, May 9, 1911
Madero's men take the city house by house, bombing their way through town.
1 PM: The rebels ask the federals to surrender. The federals ignore the demand.
The revolutionaries decide to burn house after house to force the retreat of the enemy. Private houses and offices burned as well as the post office and the public library. It worked. The federals retreated from most areas but were still occupying the church Guadalupe Hidalgo.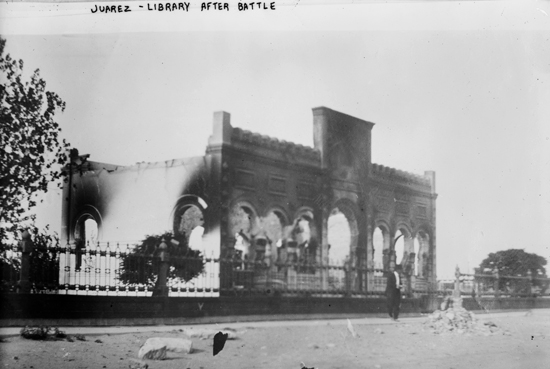 Juárez - Library After Battle
Library of Congress

Timeline of the Battle of Juárez - Wednesday, May 10, 1911
Two hours of fierce fighting around the old church this morning. The federals finally retreat to their barracks.
Shortly after noon, Navarro orders to raise a white flag. The soldiers ceased fire.
The rebel leaders meet with General Navarro and his staff to discuss further proceedings.
The grave diggers have their hands full.

Left to right: PASCUAL OROZCO, OSCAR BRANIFF (? see note below),
PANCHO VILLA, GIUSEPPE GARIBALDI JR.
Library of Congres

EK received mail...
... from a family member of Armando E. Landois, claiming that it is in fact Landois on the photo above and not Oscar Braniff.

What else?
Madero's victory at the First Battle of Juárez led to the

Treaty of Ciudad Juárez, which was signed on May 21, 1911.
The Second Battle of Juárez was fought June 15 - 16, 1919.
Check out the

List of all battles of the Mexican Revolution
More History