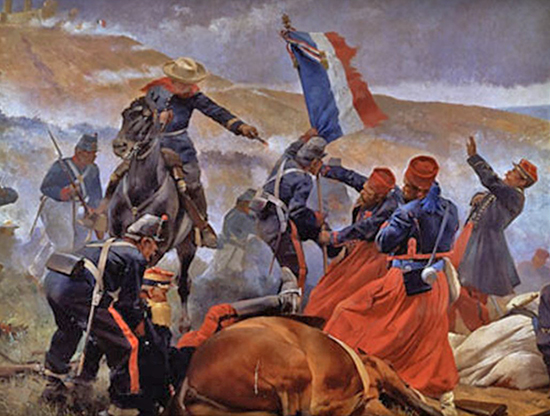 Action scene from the Battle of Puebla (Batallia de Puebla) fought on May 5, 1862 (5 de mayo de 1862)
Oil on canvas by José Cusachs, 1903 —

Museo Nacional De Historia


French-Mexican War 1861-1867
The French-Mexican War, also called the War of the French Intervention, or the Mexican-French War, is not to be mixed up with the

Pastry War, which was also a quarrel between France and Mexico.

The French Intervention in Mexico started in December 1861. First, Spain arrived with their delegation on December 1861, little later the French and the British.

Mexico City was officially conquered by the French on June 10, 1863.

What Were the Causes of the French-Mexican War?

Mexican's foreign debts, the seeking of foreign help by conservative Mexicans, and French Napoleon III's dream to extend his domain.

The Mexicans had enormous financial debts with Spain, Britain, and France. In 1861, Mexico stopped all their payments. Spain sent a fleet to Veracruz, arriving on December 14, 1861. France and Britain followed suit and also sent their debt collectors.

France demanded $15,000,000 from the Mexican government. Spain and Great Britain thought the amount outrageous. Additionally, it became clear that Napoleon III didn't send his boys to just get the money. He figured this to be an excellent opportunity to make Mexico part of his domain by means of a puppet ruler.

Clearly out-ambitioned, the Spanish and the British sailed back home. The French stayed put, ready to talk shop.

The Battle of Puebla - May 5, 1862
On their way to Mexico City, the French had to come through the city of Puebla (not Pueblo), where they arrived on May 5, 1862. But Puebla was fortified and not inclined to let the French pass.

The Battle of Puebla (Batallia de Puebla) became a victory for the Mexicans and a Mexican holiday (Cinco de Mayo = Fifth of May.)
And here are some Cinco de Mayo decorations photographed by C.B. Waite. Just in case you were wondering how the folks in Mexico City celebrated the day in the early 1900s.

CINCO DE MAYO IN MEXICO CITY EARLY 1900s
Benson Latin American Collection, University of Texas Libraries

Back to the war.
The French waited for reinforcements and visited Puebla again with 30,000 fresh soldiers from France. Puebla surrendered and so did Mexico City.
Archduke Maximilian of Austria was made Emperor of Mexico in June 1864.
Maximilian felt relatively comfy on his throne, assuming he had French military backup. Therefore, Max made big eyes when the French soldiers withdrew.
Why Did Napoleon III Withdraw His Troops?
The U.S. got their act together after the

Civil War and put pressure on Napoleon III, claiming a French presence in Mexico violated the

Monroe Doctrine.

Emperor Maximilian of Mexico with his wife Charlotte (Carlota)
© Hulton-Deutsch Collection/Corbis


There he was, Emperor Maximilian of Mexico, all by himself.
Maximilian's wife, Charlotte, tried knocking on every thinkable door in Europe and asked everybody and their uncle for help. But as no one saw any profit in helping poor Max, the emperor was executed at Querétaro, north of Mexico City, on June 19, 1867.
Here is more about

Archduke Maximilian of Austria.

Puebla was recaptured by the Mexicans on April 2, 1867, and

Benito Juárez continued his interrupted presidency.
And here is the map

WAR OF THE FRENCH INTERVENTION
Click map to enlarge
The French-Mexican War Today
If you are a fan of mock naval battles you should go down to Mazatlan during Carnival time, end of January - February, where the people remember and celebrate the successful defense of Mazatlán from the attacking French warship La Cordeliere in 1864.

More info here.
Each year on April 30, the French Foreign Legion celebrates the anniversary of the Battle of Camarón, also called the Battle of Camerone, that was fought in 1863. In this battle, 64 legionnaires resisted 2,000 Mexicans for 9 hours.

Battle of Camerone — April 30, 1863
Painting by Jean Adolphe Beauce
French Ministère de la Défense
More History