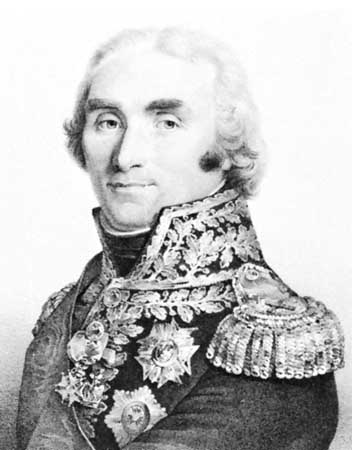 André Masséna 1758 - 1817
Andre Massena, duc de Rivoli, prince d'Essling, was born in beautiful

Nice and died in Paris.
He was

Napoleon's main man in Switzerland during the

French Revolutionary Wars.
As general of the French troops, Andre Massena won the important

Second Battle of Zurich, thus protecting his country from invasion.
Although fighting like a tiger at Napoleon's side, he later supported

King Louis XVIII's restoration.

ANDRE HAS A PLAN
André Masséna'S BRIEF BIOGRAPHY
1758, May 6 - Birth in Nice, France

1775 Joins Royal Italian regiment (French)

1789 French Revolution breaks out, Andre is stationed in Antibes

1793 Promoted General

1797 Wins Battle of Rivoli

1799, March - Promoted General of all French forces in Switzerland

1799, June 4 - 6 - Loses First Battle of Zurich

1799, September 25 - 26 - Wins Second Battle of Zurich

1799, November 9 - Napoleon comes to power

1800, April 21 - June 4 Keeps the Austrians busy at the Siege of Genoa, thus enabling Napoleon to later win the Battle of Marengo

1804 Napoleon makes him Marshal of the Empire

1808 Becomes duc de Rivoli

1809, May 21 - 22 - Loses Battle of Aspern-Essling

1809, July 5 - 6 - Wins Battle of Wagram

1810, January - Becomes prince d'Essling

1810, April - Promoted commander of all French forces in Portugal

1810, September 27 - Loses Battle of Buçaco (Portugal)

1811, May 5 - Loses Battle of Fuentes de Oñoro (Spain)

1815 Returns to Paris

1817, April 4 - Death in Paris
More History