Antigonus I Monophthalmus 382-301 BC
Image above:

Ian Beattie is Antigonus.

From Oliver Stone's movie Alexander (2004)
Antigonus was a Macedonian general and one of the

diadochi, which is the name for

Alexander the Great's successors.
Trouble was, he had only one eye. Historians don't know how it happened, but hence, he was also called Antigonus I Cyclops or Antigonus I Monophthalmus. If you're monophthalmic, you're one-eyed. That's just in from the medical dictionary.
Back to Antigonus.
Antigonus became a powerful man, in fact king over Asia Minor in 306, and started the Antigonid Dynasty. And while he was at it, he also made his own coins:
In 301 BC, Antigonus got himself killed in the

Battle of Ipsus.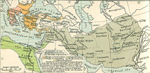 THE MACEDONIAN EMPIRE IN 301 BC
Click to enlarge
More History